What Caused Napa Wildfires? How Humans Spark California Blazes
As wildfires continue to rage in California and firefighters work around the clock to get the flames under control, people are trying to figure out what could have caused the blazes.
The California Department of Forestry and Fire Protection, also known as Cal Fire, reported Tuesday that there are 17 large wildfires that started in the last day and are still burning around California, and 115,000 acres of land have been scorched. In the counties Sonoma, Napa, Mendocino and Yuba, the fires killed at least 11 people and burned about 1,500 homes and other buildings. Cal Fire listed eight wildfires that are still burning in those places.
"The winds that fanned these fires Sunday night and Monday morning have decreased significantly, but local winds and dry conditions continue to pose a challenge," the group said.
Several counties are still in a state of emergency. In addition to the other eight, Cal Fire listed 12 wildfires in which it is leading or assisting in firefighting activities.
It is unclear what caused the fires, and officials are investigating. But according to SFGATE, accidents and arson could have ignited the blazes, or even electric lines. That publication said tree branches can be thrown into power lines during high gusts of wind and unleash sparks that set off a wildfire.
There are many other ways to start a wildfire, however. Cal Fire's Prevent Wildfire website says that humans cause 95 percent of all the wildfires in California.
"We see a number of fires started every year by vehicles dragging chains," Cal Fire fire prevention officer Don Watt said in a video, "or trailers just going off the shoulder and coming in contact with the ground that [causes] hot metal going into the grass."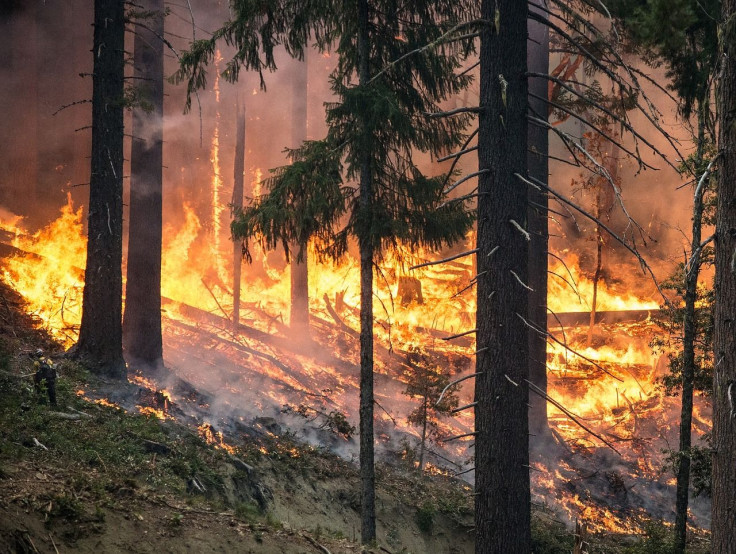 Any piece of metal dragging on the asphalt underneath a moving vehicle could start up a fire.
Sparks on highways cause a good chunk of wildfires, as do other malfunctioning equipment.
Wildfires occur when vegetation in an area is dried out, such as during a period of little rainfall. When it is hot and dry, all it takes is a well-placed spark to get things burning. High winds blow flames between trees and other flammable material, helping to spread the wildfire.
These fires can crop up anywhere, including many other countries around the world, but in the U.S. they are particularly common in western states like California, Nevada, Oregon and Utah.
A natural event like a lightning strike could set things in motion, but frequently manmade sparks are culprits. In addition to vehicles dragging metal on the highway, people can cause wildfires with something as simple as a cigarette butt or by lighting a campfire that sends embers flying.
The National Weather Service has explained that lightning can start a fire if the flash is of a continuous flow of electricity, rather than a flickering-like flash that is more common. A continuous flow heats up the object that was struck and can make it ignite.
Once the wildfire starts, it could create walls of flames that reach several stories into the air. The intense heat and smoke radiating from the fire are potentially lethal to people caught in its path, among other hazards.
© Copyright IBTimes 2023. All rights reserved.