What Country Will Get Legal Marijuana Next? US Medicine Company Approved To Treat Epileptic Patients In Mexico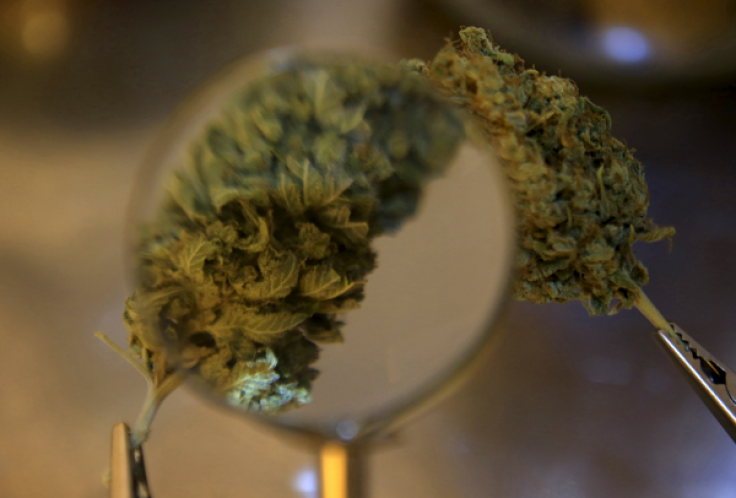 The solution to reducing deadly seizures could be a puff of a marijuana cigarette, but for many lawmakers around the world, legal medical pot is still considered taboo.
The debate can be seen in Mexico, where about 8-percent of the population suffers from some type of neurological disorder, like epilepsy. Mexican law strictly prohibits the use of marijuana for any reason, however, the country recently started allowing doctors to treat patients with imported medicine containing cannabidiol, an active chemical ingredient in marijuana, on a case-by-case basis. Mexico could also soon legalize cannabinoid-based products and even medicine with pot's psychoactive ingredient, tetrahydrocannabinol, after its senate passed a bill approving medical marijuana in December. Mexico's lower house is expected to vote on the measure after it 2017 session resumes on Feb. 1.
In the U.S., medical marijuana is used as a form of treatment for people suffering from epilepsy in 28 states, as well as Washington, D.C. While a recent Centers for Disease Control and Prevention report highlighted some of the benefits of using medical marijuana, the plant is still considered a Schedule I drug by the Drug Enforcement Agency and, in some cases, can lead to higher risks of substance abuse, according to the report.
Enter Medical Marijuana, Inc., a California company that is one of the first U.S. firms to gain import approval in Mexico thanks to its cannabidiol-based product, Real Scientific Hemp Oil-X, which does not make people high. International Business Times recently spoke with Dr. Stuart Titus, CEO and one of the medicine's developers, to discuss how patients, particularly children suffering from epilepsy, have used the hemp oil product known as RSHO-X and how Medical Marijuana, Inc., is helping fuel less restrictive medical cannabis programs in Mexico and other countries.
How did you get started with Medical Marijuana, Inc. and come to create RSHO-X?
"I've been a Ph.D. physiotherapist and I've been treating a lot of athletes for pain and injury rehabilitation. I found that plenty of them were using cannabis and this was helping them with pain and inflammation, but also there were many people using it to help them with their workout routine and just to feel better mentally. I was so intrigued that I started attending some of these medical cannabis symposiums, and I found there was a huge amount of literature and medical research on these extracts from the cannabis plant called cannabinoids. We were very interested in developing the non-psychoactive cannabinoid, or cannabidiol because we thought this was far less controversial and something that a public company – given the federal restrictions and regulations for a public company – could still enter."
THC is the psychoactive component of marijuana. How is Cannabidiol, or CBD, different?
"CBD is, in fact, non-psychoactive. It's derived from the industrial hemp plant, which many countries around the world grow and use for textile purposes or biocomposite purposes. Cannabis grows the traditional hemp seed and the same tremendous nutritional values of the hemp seed, but it also can contain a high concentration of the non-psychoactive cannabinoids and it's particularly shown great effects for these children with unfortunate developmental disorders."
What are some of the benefits CBD-based products like RSHO-X has shown in patients so far?
"We think there are tremendous future benefits for these childhood developmental disorders like epilepsy that seem to, unfortunately, be plaguing many people in the world. Of course, parents are looking for any type of solution... But on the botanical side, our product had almost twice the efficacy in terms of reducing seizures. CBD has a 67-percent average reduction in seizure disorders, and that's almost twice what the pharmaceutical groups have been able to come up within the U.S. And most importantly, we haven't had any adverse effects. The only 'side effects' we've heard are the reports of better coordination, children interacting with parents and the family much better and having more of an appetite while other developmental challenges seem to be melting away."
Why do you think it's been so difficult to get more CBD-based products on the market in Mexico and the U.S. if they've been proven to help people?
"Unfortunately, change in the medical society is very slow, especially here in the U.S. There are places around the globe where it's a little bit more progressive, but here [in the U.S.] basically doctors and the medical community are very much wanting to see the hard clinical evidence. And so far we've only been able to do early stage preclinical work funded by government and national institutes through health grants, but these preclinical efforts are all in Petri dishes or through animal testing. Trying to get human testing has really been a challenge to get through the regulatory parties. Human studies with cannabis-based products need FDA approval. You need DEA approval, so there's a lot of hoops to jump through. And the research community is just starting, but still, there's a lot of research barriers unfortunately in regard to using cannabis and cannabinoid-based products."
There are lawmakers in Mexico who are looking for full medical marijuana approval in the country. Do you feel like your product having the green light in Mexico will help improve their marijuana laws?
"We're certainly excited about the fact that regulatory parties there seem to be much more progressive. They understand now that non-psychoactive CBD has a tremendous potential place in terms of these very difficult to treat conditions, especially with neurological disorders. This is something that's helping move the overall cannabis space and legislation and helping to improve the dialogue that certainly is existing. We are very excited the senate in Mexico has come forward with certain approvals, and we like to believe this is going to hopefully carry forward and get the president to sign an overall very comprehensive medical cannabis bill."
What do you expect to see happen in the industry in 2017 with cannabis medicines throughout the world?
"One of the things that is already happening that is very exciting to see is the World Health Organization (WHO) is now starting to debate this whole Schedule I cannabis-based products [restriction on] the U.N.'s single convention treaty on narcotics. The WHO is just starting to petition to actually remove this. So cannabis will potentially be removed from the United Nations single convention treaty and that's going to open up tremendous opportunities throughout many countries around the world and certainly potentially here in the U.S."
© Copyright IBTimes 2023. All rights reserved.
FOLLOW MORE IBT NEWS ON THE BELOW CHANNELS