What Is Dabbing? House Speaker Paul Ryan Performed The Dance Move During An Interview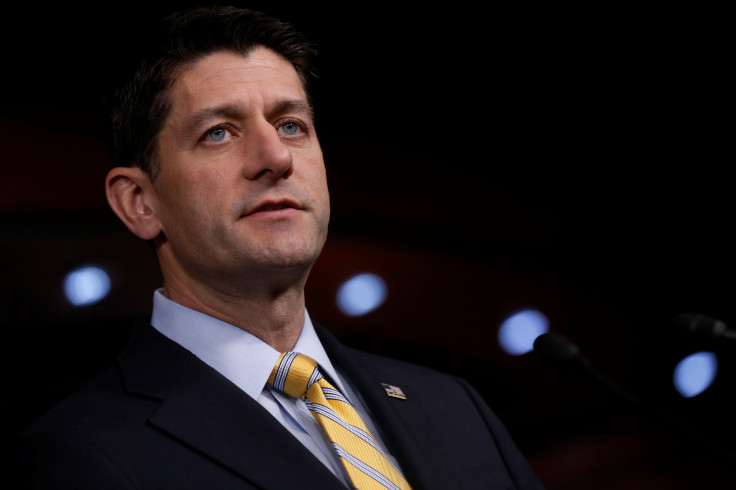 House Speaker Paul Ryan told CNN he knows what dabbing is and then went on to prove it to the audience. The speaker of the House of Representatives, who was at a town hall-style interview, was responding to an incident that occurred last week when he was swearing in new members into the House.
When it was Rep. Roger Marshall's turn to be sworn in, his son Cal Marshall stole the limelight. The teenager, who was holding the bible, did the popular dance move during a photo op. Dabbing involves burying your face in the crook of your elbow. It gained popularity in 2015 when several musicians performed the move.
Ryan, who was confused by the teenager's action, enquired if everything was alright. The young Marshall sheepishly apologized and put his arm down.
"You alright? You want to put your hand down?" Ryan asked him before trying to get Cal to put his arm down.
"Ok, ok, I'm sorry," the teen said.
"Were you going to sneeze, is that it?" Ryan asked.
"He's sneezing," the senior Marshall said.
The House Speaker later tweeted saying he didn't "get what dabbing is."
However, that seemed to have changed by Thursday when Ryan said he knew what a dab was and said the congressman's son wasn't doing it right.
"You know, I actually do know what a dab is," he told CNN's Jake Tapper.
He then went on to demonstrate how to pull a dab off and commented: "He wasn't doing a dab, by the way. It looked like he was sneezing."
The Wisconsin Republican discussed several issues during the interview, and announced that Republicans plan to repeal President Barack Obama's signature health care reform, the Affordable Care Act, at the same time they approve a replacement plan.
"We want to do this at the same time, and in some cases in the same bill," Ryan said. "So we want to advance repealing this law with its replacement at the same time."
© Copyright IBTimes 2023. All rights reserved.
FOLLOW MORE IBT NEWS ON THE BELOW CHANNELS