What Is Día De Los Muertos? Date, History, Facts And Everything You Need To Know About 'Day Of The Dead' 2016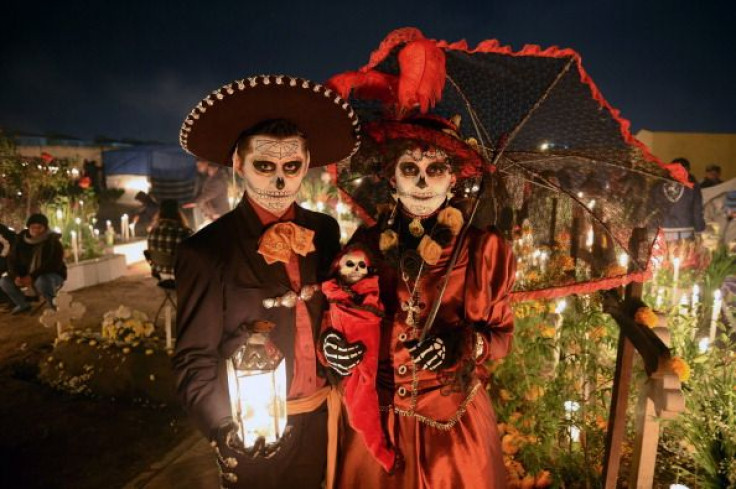 Día de los Muertos, also known as the Day of the Dead, is a two-day celebration that occurs every year on Nov. 1 and Nov. 2, the day after Halloween. It is a time to worship people who died, but there is much more to know about the festival. To find out more, continue reading below:
1. Is there a difference between Día de los Muertos and Halloween? While the holidays might seem similar, there is one major difference: Death is something that is to be feared on Halloween. Death is something to be celebrated, however, on Día de los Muertos.
2. Why would the living celebrate death? The idea is that the living get to laugh in the face of death. Children play "funeral" with dolls. Since death is a natural part of life, it is not something to be feared.
3. How do the living celebrate the dead? Revelers honor the dead loved ones by decorating altars with offerings or gifts. Typical items include candles, yellow marigolds, sugar skulls (the representation of a departed soul), food, drinks, cigarettes and clothing. A picture of the deceased person is typically included.
4. Are there only Día de los Muertos parties in Mexico? The holiday originated in Mexico, because it was brought to the area by Spanish conquistadores. It combines indigenous Aztec ritual and Catholicism.
Día de los Muertos is celebrated in other countries like as Guatemala, Brazil and Spain. There's a growing popularity in the U.S. because of the large number of Mexican immigrants and Mexican Americans.
5. Why are there so many skeletons and skulls (calacas and calaveras) associated with Día de los Muertos? It's an old tradition, which dates back to the pre-Hispanic era. Skulls used to be kept as trophies and were used during rituals.
In the 20th century, Mexican artist José Guadalupe Posada repurposed the skull. He drew a picture of a skeleton with a glamorous hat, which is known as Calavera Catrina. He was inspired by the Aztec tale of Mictecacihuatl, the Lady of the Dead. For Posada's purpose, the picture was a stab against Europhile Mexican leaders during the Porfirio Díaz dictatorship. Calavera Catrina became the symbol of the Mexican Revolution.
Check out this fun infographic about Día de los Muertos, courtesy of El Jimador.

Follow me on Twitter @mariamzzarella
© Copyright IBTimes 2022. All rights reserved.
FOLLOW MORE IBT NEWS ON THE BELOW CHANNELS