What Is Dia De Los Muertos? As Day of Dead Gains Traction, Businesses Benefit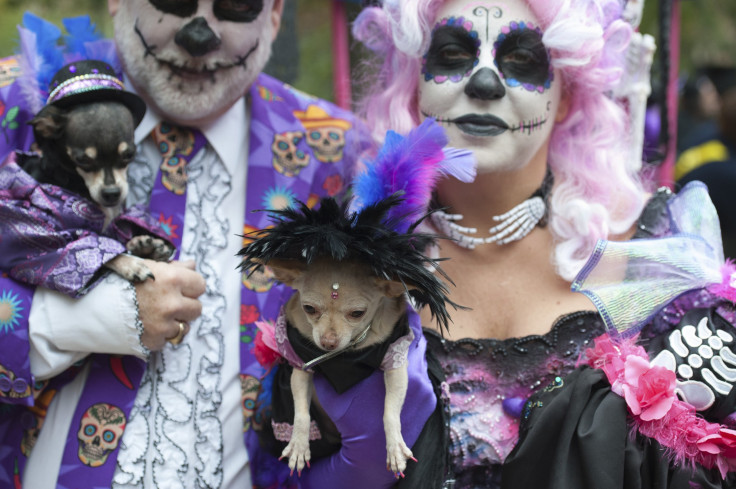 In La Sirena, an authentic Mexican folk art store tucked away in the eccentric East Village neighborhood in New York City, a massive, black and white paper mache skeleton with eyes made of glitter stands on display in the tiny shop, bringing the festive feeling of traditional Mexican folklore to Manhattan. Store owner Dina Leor has been busy this month with an increasing demand for vibrant sugar skulls, festive clay figurines and paper mache masks as her patrons get ready for to celebrate Dia de los Muertos, a Mexican holiday honoring the dead.
As the Hispanic population continues to grow in the United States, Dia de los Muertos, or Day of the Dead, has also started gaining traction, and businesses are paying attention. Like with most American holidays, retailers have found a way to monetize on the popularity of the cultural celebration by increasingly catering to a growing demand for sugar skulls and festive costumes. Adding Day of the Dead products or events to cater to this new demand is a smart business move, experts said, but commercializing such a culturally-rich holiday could possibly be problematic if it is done in the wrong way.
A Boom In Popularity
While Day of the Dead festivities have been embedded in the culture of Mexican-Americans for decades, an expanding number of events celebrating the holiday have popped around the country in recent years. As more people of non-Hispanic backgrounds have become aware of the joyous celebration, retailers and organizations that work with Day of the Dead-related activities or products have suggested that the growing awareness and demand could be a result of the large Hispanic population in the U.S., which hit a record high of 55 million in 2014.
Festivals, exhibits, parades and marathons commemorating Dia de los Muertos have pulled in huge--and diverse--crowds over recent years. The Penn Museum in Philadelphia scheduled its fourth annual Day of the Dead celebration this week. The festivities include pageantry and giant puppetry, music and dance, storytelling, paper mache artistry, sugar skull and mask making, face painting and an elaborate Day of the Dead altar. Roughly 800 to 1,000 people have attended every year, and in the past, the event has attracted a mixed crowd of Spanish speaking and non-Spanish speaking people, according to Pam Kosty, the public relations director for Penn Museum.
"The celebration is taking Philadelphia by storm and we are starting to see copycat events," said Kosty. "I think Halloween's meaning is probably lost to a lot of us, but this (Day of the Dead) connects us with remembering people…I think it's a rich celebration."
Dia de los Muertos is celebrated by most Latin American countries, however it is most strongly associated with Mexico, where it originated. People who celebrate Dia de los Muertos believe that the gates of heaven are opened at midnight on Oct. 31, giving the spirits of deceased children 24 hours to reunite with their families, and adult spirits are believed to join the party Nov. 2. Customs associated with the holiday include the decoration of beautiful alters in homes and the visitation of gravesites. Delicious food and drinks are served, and the event is more joyous than spooky.
"It's a wonderful tradition," Kosty said. "There is something very human about the celebration and message of reconnection."
Cashing In On Dia de los Muertos
U.S. consumers already fork over a lot of cash for Halloween. Total spending for the holiday is expected to top $6.9 billion this year. And businesses eager for any opportunity to make more money off the spooky celebration have embraced the Latin twist of Dia de los Muertos.
El Rey in Philadelphia has crafted an entire Day of the Dead menu, which includes brain ravioli, tongue taco and blood sausage. Rosa Mexicano in Hackensack, New Jersey, has celebrated the holiday for over seven years, decorating the restaurant with candles, sugar skulls and an alter honoring celebrities that had passed away that year. This year, the eatery has planned a special menu including guacamole de Granada with pomegranate and toasted pumpkin seeds, and a Flor de Mezcal cocktail made with Del Maguey Vida mezcal, agave, orange and lime.
"Overall, in the past several years we have noticed that our guests have become increasingly aware of the holiday, and I think it's because people can now access more materials online," said Paul Abrams, manager of Rosa Mexicano. "We have diverse groups of guests, too."
Giant retailers including Party City and Spirit Halloween, meanwhile, have started offering a bigger array of Dia de los Muertos-inspired costumes, including flowered headbands, frilly petticoats and skeleton masks. Sean Pettigrew, the manager of Ricky's NYC, a popular "beauty shop" in New York City that offers a plethora of Halloween costumes during the holiday season, noticed an uptick in demand for Day of the Dead-related products this year. The store offers Day of the Dead costumes, sugar skulls, tattoos and gloves.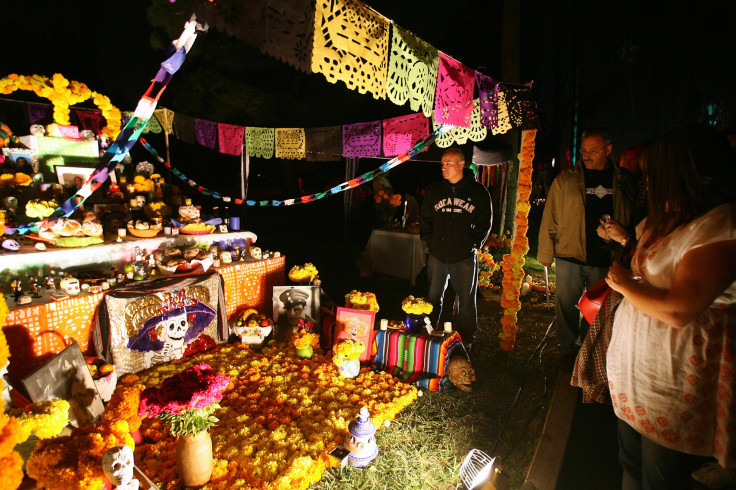 "I've seen those (Day of the Dead) costumes move a lot more this year than previous years," said Pettigrew, who has worked at Ricky's for five years. "We have had a lot more of those products this year than the one or two products we have typically had in past years."
For Leor, the owner of La Sirena, October has long been a busy month. She has owned the folklore shop for 16 years, and has seen an increasing demand for Day of the Dead items, attributing some of the boom in business to the store's Facebook page and word-of-mouth.
"Halloween is more commercial, and Day of the Dead is more of a traditional holiday," said Leor. "I've had thousands of people come through my store; tourists, Mexican families, people from Staten Island, the Bronx, London, Dubai, San Paulo....I think it's a beautiful fact that people are continuing their traditions from other countries, and those traditions get shared with people in different cultures."
A Smart (But Tricky) Business Move
Carlos Santiago, president and chief strategist of Santiago Solutions Group, a growth strategy consultancy focused on aligning business strategy and marketing across Hispanic, diversity and generational segments, has also noticed the flourishing awareness and interest in Day of the Dead products and festivities, especially in large states where Hispanics have a big presence. Catering to that demand is a smart business move, according to Santiago.
"Accepting and incorporating this celebration in their promotional calendar, they are expanding their base and telling that segment that they are welcome and that they understand them," said Santiago. "It has an immediate impact, and it also creates brand equity."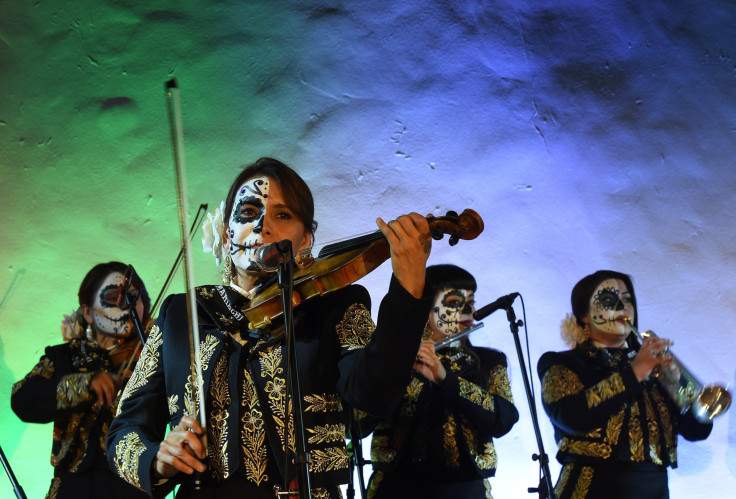 The increased commercialization of Day of the Dead however, is worrisome to Leor, the owner of the authentic Mexican craft store in New York City. People will buy a Day of the Dead product for cheap and not know or care about the tradition behind the product, said Leor.
"I think some of those costume stores are taking advantage of it (the popularity of Day of the Dead), and it makes my stomach churn," said Leor.
Santiago acknowledged that when venturing out into a different cultural territory, businesses should tread lightly.
"Brands run the risk of upsetting or crossing the line between what might be accepted or not accepted, especially if they are not of Hispanic heritage," said Santiago. "If someone is doing something with Dia de los Muertos, it will be augmented and magnified if they have not done anything in the marketplace or if they've had no connection to the Hispanic consumer in the past...It's very tricky. There were a lot of corporations that were starting to expand their promotions for Cinco de Mayo and they did in ways that were very tongue-and-cheek. Some were fun, but some retailers didn't do it the right way."
© Copyright IBTimes 2023. All rights reserved.