What Does David Letterman Do Now? Retired 'Late Show' Host Spotted At St. Barts Supermarket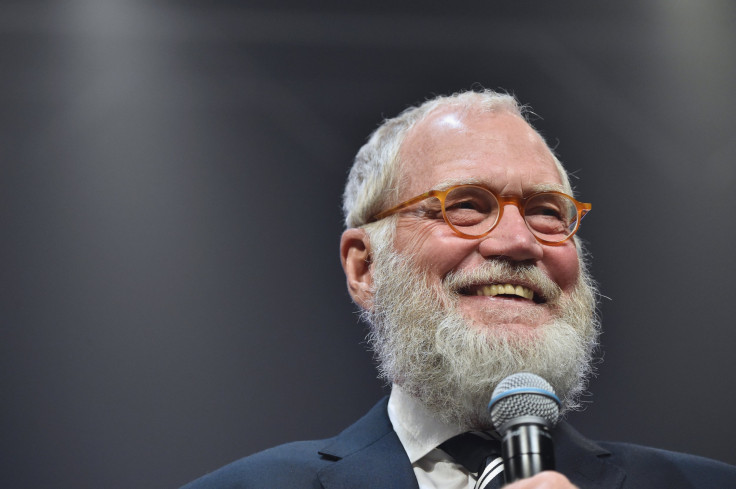 David Letterman's startling new look was revealed to the world Tuesday when he was spotted jogging on a beach on St. Barts. The former "Late Show" host sported a long, white, Santa Claus-like beard and a shaved head. Many have wondered what the comedian was up to in his retirement, and now it's reported that one way he's keeping busy is by berry shopping.
According to Us Weekly, the 68-year-old TV veteran was seen purchasing strawberries on Wednesday with his wife, Regina Lasko. Letterman was photographed clutching a bag from the grocery store as he and Regina were leaving a supermarket on the French Caribbean island. You can see the photo here.
Letterman started displaying the beard look in June. Just a few weeks after his final episode as host of the "Late Show," he was spotted out in public with some stubble.
You can see the beginning stages of the beard in this tweet:
Other than berry shopping and getting a new look, Letterman told Indianapolis Monthly in June that he's been doing a variety of activities while enjoying retirement. The former host has been lying low, spending his time fishing, relearning how to do things like use a phone without the help of an assistant and also "discovering himself" after leaving the spotlight.
"It's stunning what you find out about yourself when everything you've done for 33 years changes. It's like ice melting out from under you," Letterman dished. "I know that regular, responsible people probably hear me whining like this and think, 'Oh, brother.' But I'm trying to rehabilitate myself, so keep me in your thoughts and prayers."
With his very different look, he does appear to be happy. In one of the photos of his run he was shown smiling at the camera. In an interview with the Whitefish Review in December, he said the first thing he was going to do when he got off TV was to stop shaving.
"I've kind of developed a real creepy look with it that I'm sort of enjoying. And I can tell that people are off-put by it. And the more people implore me to shave, the stronger my resolve is to not shave," Letterman said.
Letterman had been forced to be clean-shaven for 33 years and he said he was "sick and tired of shaving." He also added that his family "hates" the look.
Letterman signed off as host of CBS' "Late Show" on May 20, 2015, after being the face of the show for decades. He was replaced by Stephen Colbert, who made his debut as the host in September. The show airs on CBS weeknights at 11:35 p.m. EDT.
© Copyright IBTimes 2023. All rights reserved.
FOLLOW MORE IBT NEWS ON THE BELOW CHANNELS