Who Can Stop Donald Trump? Stephen Colbert Breaks Down Super Tuesday 'Part 3' [VIDEO]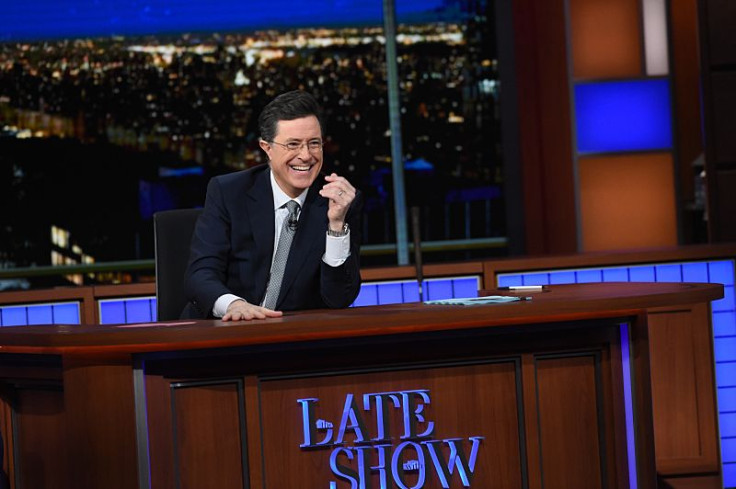 Can anybody in the Republican party prevent Donald Trump from winning the party's nomination for president? After Tuesday's primary results, in which the front-runner scored big victories in Florida, Illinois, and North Carolina, comedian Stephen Colbert decided to do the GOP a favor and break down their remaining options.
On CBS' "The Late Show" Wednesday, Colbert devoted almost ten minutes of the episode to recapping Tuesday's primaries, the third Tuesday this election cycle that has featured a large group of key states at the polls.
"Five states voted, so people were calling it Super Tuesday part three and, like all sequels, it is getting predictable and very expensive," joked Colbert.
The comedian went on to discuss the Republican party's options to stop Trump. First up was Ohio Gov. John Kasich, who won his home state Tuesday. While the victory made Trump's path to the nomination more difficult, it does not present an obvious path to the nomination for Kasich himself. However, that has not stopped Kasich from claiming that victory is in sight on the campaign trail.
"To secure the nomination in the convention in Cleveland this summer, Kasich would have to win 116 percent of the remaining votes," Colbert pointed out. "We'd have to make him governor of every remaining state, plus some states we don't even have yet," the comedian joked, before launching into a bit about fake states "North Kentucksylvania" and "Massachippissippi."
Next up was Texas Sen. Ted Cruz, whom Colbert introduced before revealing a large, glowing, ghost-like mold of the candidate's face on stage.
"If every single non-Trump delegate unites behind [Ted Cruz], he could have enough delegates to win the nomination. Then, the GOP establishment can say, 'Goodbye, candidate we don't like' and 'Hello, candidate we can't stand'," Colbert said, referencing Cruz's famous lack of popularity in the Senate.
Finally, Colbert discussed the possibility of a brokered convention in the event Trump does not secure enough delegates to secure the nomination in the initial convention ballot.
"This is great news. The Republican campaign could start all over again, but this time it would be crammed into one week," joked Colbert. "You could binge-watch the death of the GOP."
With Trump's wins Tuesday, the real estate mogul holds a commanding lead in the delegate count, with 646. Cruz is a distant second with 397 delegates, followed by Kasich with 142 delegates. Florida Sen. Marco Rubio dropped out of the race on Tuesday after losing his home state.
© Copyright IBTimes 2023. All rights reserved.