What Does An Obscure Japanese Ghost Town Have In Common With Machu Picchu? They're Both Considered 'World Heritage'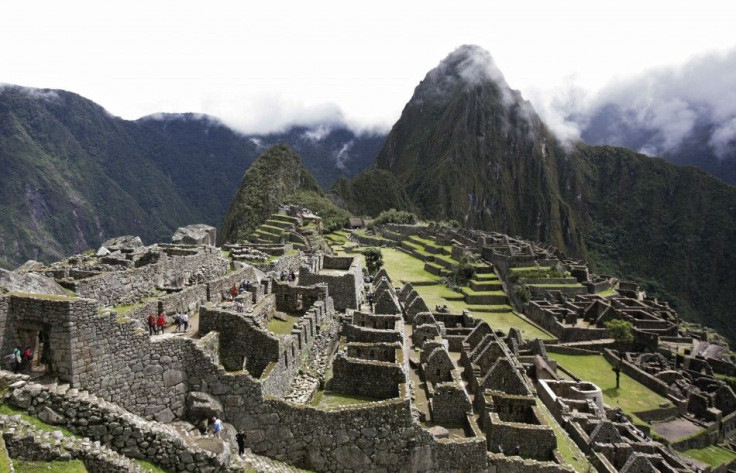 In 1991, the cheery town of Dubrovnik, Croatia, nearly lost a piece of its heritage. Artillery fire from invading Serbian and Montenegrin forces peppered the magnificent Gothic, Renaissance, and Baroque buildings for seven months, when 563 of the 824 buildings in Old Town were hit by projectiles, and nearly a dozen others were destroyed by fire. The pearl of the Adriatic, as Lord Byron once called it, lost its luster.
Just 12 years earlier, UNESCO, the United Nations organization responsible for education, science and culture, had inscribed Dubrovnik on its second-ever World Heritage List, covering the city in a thick blanket of protection. So, in the wake of the attacks, UNESCO quickly categorized the city as World Heritage in Danger. With UNESCO's technical and financial assistance, the Croatian government renovated the facades of the Franciscan and Dominican cloisters, rebuilt palaces, and repaired the city's iconic orange roofs. Only seven years later, the town was restored to its former glory.
That, in essence, is how UNESCO's World Heritage Center is meant to work.
The idea to create an international movement to protect the world's cultural and natural wonders emerged after World War I and was further inspired by the rescue of the 13th-century B.C. Egyptian temples of Abu Simbel in 1954. After Cairo announced plans to build a dam that would flood them, UNESCO launched a campaign to relocate the temples, brick by brick.
The effort spawned a series of other conservation projects across the globe, and UNESCO ultimately formed the World Heritage Center in 1972 at the Convention concerning the Protection of World Cultural and Natural Heritage. The first sites -- such as the Galapagos Islands, Yellowstone National Park, and the City of Quito, Ecuador -- were inscribed on the World Heritage List in 1978. Since then, the Great Barrier Reef, Great Wall of China, and Great Pyramid of Giza, among 933 others, were stamped with the UNESCO seal of approval and World Heritage status became a global brand.
These man-made and natural wonders are considered to be of outstanding universal value, a quality that transcends borders, politics, and economics. Once added to the prestigious World Heritage List, the sites are placed beyond the reach of developers, looters, or polluters.
At least that's the idea.
But many in the conservation world see the World Heritage emblem as a lavish marketing tool devoid of any real power -- a fancy name for a lame duck.
40 Years Of World Heritage
World Heritage Committee members from 21 states parties will gather in St. Petersburg, Russia, from June 24 to July 6, to discuss myriad topics, including sustainable development and a new strategic plan for the next decade. Chiefly, the team will assess recommendations from the International Council on Monuments and Sites, or ICOMOS, and the International Union for Conservation of Nature, or IUCN, to select new additions to the World Heritage List.
There are currently 936 sites on the list: 725 cultural, 183 natural, and 28 mixed properties, in 153 states parties (countries that adhere to the World Heritage Convention). This year, the committee will consider 36 sites: 28 of them are cultural, five are natural, and three are mixed.
Chad, Congo, Qatar, Palau, and Palestine stand to enter the World Heritage list with their first-ever inscriptions, as UNESCO calls it, but the presence of Palestine has caused a considerable amount of controversy.
Palestine joined UNESCO and subsequently the World Heritage Convention last October, when the General Assembly voted 107-14 to make it the organization's 195th member. The vote was the first taken in a U.N. body since the Palestinians embarked on a campaign for recognition as an independent state in the international arena, and subsequently, the U.S., Israel's staunch ally, cut all its UNESCO funding, depriving the organization of 22 percent of its revenue.
The United States contributes 1 percent of its total contribution to the World Heritage Fund, so some activities that would have been funded from that support will have to be cut back or postponed, or we have to look for alternative funding, said Kishore Rao, director of UNESCO's World Heritage Center.
In addition to adding new sites, Rao said the World Heritage Committee will run a standard check on 105 properties already listed and examine progress in conserving the 35 properties on the List of World Heritage in Danger.
The sites on the danger list fall under two broad categories: potential danger or ascertained danger to universal world heritage.
Rao is quick to point out that a danger listing is not a punishment.
It's not something negative, Rao said. It's a support mechanism that draws attention to a serious threat. It means everyone needs to come together to deal with it, financially, politically, and so forth.
As one might expect, many of the sites in danger lie in war-torn regions of Africa, such as the Democratic Republic of Congo, which has six sites on the list. However, others are more familiar.
The World Heritage Committee placed Florida's Everglades National Park on the List of World Heritage in Danger during its 34th session in 2010. The categorization was made at the request of the U.S., and it was the second time the park was put on the list. Previously listed because of damage caused by Hurricane Andrew, the site is back in danger due to a marked deterioration in water flows and quality caused by agricultural and urban development.
Some countries have resisted this status, thinking that it's a black mark or stigma, but it was never meant to be seen that way, said Stephen Morris, chief of the office of international affairs for the U.S. National Park Service. We wanted to set a good example. The idea is that everyone is on notice and reminded that the international community is watching what we're doing.
But does the U.S. really need to have a site on a global danger list? And do sites in developed countries really need as much help as those in the developing world? Herein lies the debate over what role UNESCO should play in World Heritage, and how.
A Silver Mine In Japan
Many Japanese had never heard of the Iwami Ginzan Silver Mine until it was afforded UNESCO protection in 2007. Suddenly, the ghost town of Omori -- with a population of 413 -- was flooded with hundreds of thousands of tourists. The economic benefit was a godsend, but the designation of this relatively unknown locale in Japan raised eyebrows.
Critics questioned the site's outstanding universal value and wondered if the ever-growing list of locations -- quickly approaching four digits -- had diluted the distinguished World Heritage label. Furthermore, they questioned whether inclusion can do more harm than good if a place is unprepared for the inevitable inflow of mass tourism. After all, Omori had just one inn with eight rooms.
This, critics say, is the World Heritage List's fatal flaw. Because countries submit the sites they want to be inscribed -- often to boost tourism numbers -- UNESCO's coverage is severely limited and, in some cases, skewed.
Peru and Italy are about the same size and, arguably, have about the same number of worthy heritage sites, said Jeff Morgan, founder and executive director of the Global Heritage Fund. Yet, Italy has 47 World Heritage Sites, and Peru has only 11. They're underrepresented because it takes intensive resources to put the paperwork together to be on the list.
The Global Heritage Fund, founded in 2002, sees an unfavorable imbalance in the UNESCO World Heritage List and focuses its efforts exclusively on saving Earth's most significant and endangered cultural heritage sites in the developing world.
Developing countries have a challenge, Morgan said. Get on the World Heritage List, and you may get national funding and more developers will be interested in the surrounding property -- but it doesn't secure you international funding or the technical support and management training that's needed to take on a big site.
Rao countered that the World Heritage global strategy calls for a represented balance and credible list.
A constant attempt is made to ensure the list is balanced geographically, Rao argued. The balance comes through creating a better capacity for underrepresented and nonrepresented countries to propose sites. A whole system is put in place to help balance the list and at the same time, we appeal to those that are well-represented to go slow on their proposals.
At the end of the day, Rao added, it's 'world heritage,' wherever that exists.
Whether the Iwami Ginzan Silver Mine is indeed world heritage is up for debate. Japan argued that it met three of the six criteria necessary to be included on the list, exhibiting an exceptional interchange of human values, cultural tradition, and land use. But ICOMOS, which issues recommendations to the World Heritage Committee, found that it met none of the criteria and was, in fact, not of outstanding universal value. Although the council recommended the committee defer the application, Japan pressed ahead, and, with strong backing from Japan's allies, the application was approved.
Saving World Heritage With Empty Pockets
The World Heritage Fund receives most of its income from compulsory contributions by countries that adhere to the World Heritage Convention and from voluntary contributions. Other sources of income include negligible profits derived from sales of World Heritage publications and so-called funds-in-trust given by countries to support specific projects with defined goals and objectives.
While UNESCO's World Heritage Center is part of an intergovernmental agency, Morgan's Global Heritage Fund is an nongovernmental organization, operating primarily on private donations. This, he said, is one of UNESCO's problems. Because it doesn't appeal to the private sector, it has no money.
We're facing a global crisis of our heritage sites, Morgan said, and there are people that would love to brand with them and be a part of saving world heritage. If you look at the U.N. High Commission on Refugees, they have operating money [from the public and private sectors], thousands of people working for them, and they get things fixed. That's just not the case with the World Heritage Center.
Morgan said he works with the World Heritage Center all over the world and thinks their methodology is good, if a bit bureaucratic. They're one of the most efficient parts of the U.N., he said, when you take into account how under-resourced they are and what they're able to accomplish. But they need help.
It's becoming a Secretariat within the U.N. that has oversight, manages a list, and can write letters and appeals, but really has no operating budget to take on the big problems that are out there, especially in the poor countries.
These problems include encroachment, unplanned development, and untrained leaders. Tourism can be problematic, too. Although it diversifies rural poor economies and offers more industries and supply chains, each little step can destroy the integrity of a site if not controlled.
Inclusion on the World Heritage List comes with pride, awareness, and development potential, but not a paycheck. UNESCO uses the World Heritage Fund to provide international assistance for both preparatory and management purposes, Rao said, but the funds are limited to about $4 million annually.
With more sites joining the coveted list this week, those funds will be spread even thinner, making a chorus of complaints about the World Heritage List all the more likely in coming years.
© Copyright IBTimes 2022. All rights reserved.
FOLLOW MORE IBT NEWS ON THE BELOW CHANNELS