What Is A False Killer Whale? Florida Dolphins Found Dead In The Everglades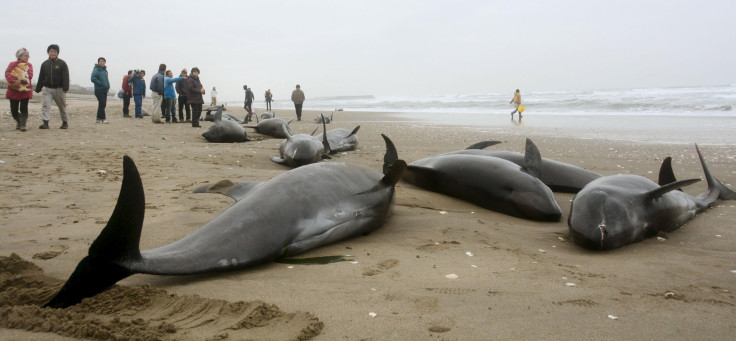 Ninety-five dolphins known as false killer whales were found died on a shoreline in the Everglades National Park in South Florida this weekend in the largest mass stranding recorded in the states. A stranding occurs when marine mammals become trapped on land and often die from dehydration.
Researchers of the National Oceanic Atmospheric Administration said they found 81 of the dolphins already dead when they arrived at the remote shoreline called Porpoise Point in Monroe County on Monday. Ten had to be euthanized by veterinarians due to their irreparable critical condition.
Like many marine mammals in the U.S., fake killer whales are monitored by being tagged electronically. Thirteen of the dolphins remained unaccounted for as of Tuesday afternoon.
Monroe country is located on the island of Key West, 165 miles southwest of Miami.
The brutal scene was discovered by a bystander who alerted the U.S. Coast Guard on Saturday afternoon. After the Coast Guard confirmed the stranding by flying over it, a team of investigators from the National Oceanic Atmospheric Administration and the Florida Fish and Wildlife Conservation Commission were dispatched to the scene. But their joint efforts to usher the dolphins they found alive back into the water on Saturday and Sunday were futile due to the thick mangroves there.
"Once on the scene, the response team attempted to herd some of the free-swimming live whales into deeper water, however, they were ultimately unsuccessful with that effort," Blair Mase, a representative of the National Oceanic Atmospheric Administration, told Reuters.
A local boat captain told local reporters he believed the dolphins died after being overcome by the tide and physically dragged onto the shoreline. Biologists and responders of the National Oceanic Atmospheric Administration said they would have a definitive answer to the cause of the incident after conducting more forensic evidence from the scene.
Some dolphins are called false killer whales because of their close resemblance to orcas. They are the fourth largest species of dolphins and can be 15 to 20 feet long and weigh up to 1,500 pounds.
© Copyright IBTimes 2023. All rights reserved.