What Is Friendsgiving? How To Throw The Ultimate Thanksgiving With Your Friends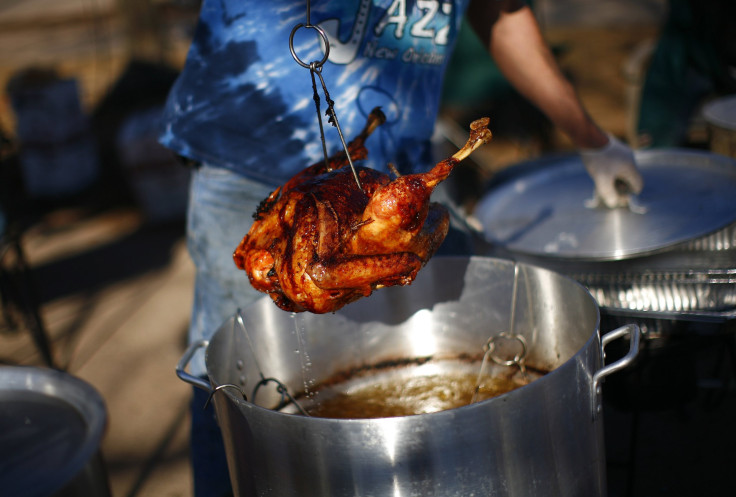 With nosy aunts, gross green beans and awkward interactions, Thanksgiving with the family can be the worst. But if you take away the tension at the dinner table, add booze and invite your BFFs, you get the best holiday ever: Friendsgiving.
Friendsgiving is a growing trend among millennials and recent grads who live too far away from their homes to go back for the Thursday feast. Other people host Friendsgiving in addition to Thanksgiving just because it's a fun excuse to eat more pie. Whatever your reason, here's how to throw the ultimate Friendsgiving:
1. Make it a potluck you plan in advance.
The host should make the turkey and gravy, according to BuzzFeed, but everyone needs to bring everything else. Use a Google Doc to coordinate who's cooking what so there are no repeats. Divide up the appetizers, entrees and desserts equally. At the very least, your group will need a turkey, gravy, cranberry sauce, sweet potatoes, stuffing, mashed potatoes, asparagus, bread and pumpkin pie. Slate put together a shopping list that's perfect for people cooking together.
2. Don't make weird stuff. Or do. Nobody cares.
At Friendsgiving, there's no obligation to eat your grandma's special-recipe brussel sprouts. You can make what you want and skip what you don't. Nix the apple pie and have ice cream instead. Order pizza if you get lazy. This Friendsgiving organizer at Business Insider used cornish hens instead of turkey. There's no pressure to be traditional.
3. Amass alcohol. Lots of it.
Whereas at family Thanksgiving you're limited to a single glass of red wine, at Friendsgiving there are no rules on how much you can drink. People magazine did the math for you on how much booze to buy: Plan on two beers and three sodas per guest. Or, better yet, make a big batch of something to share. Serious Eats has a great recipe for a bitter sangria that will get your guests hungry by the time the turkey is done. Don't forget ice.
4. Create a bumpin' playlist.
Get your most musically inclined friend to assemble a soundtrack for the evening. The songs should be dancy during appetizers, quiet during dinner and slow when you guys all crash on the couch after eating. This Julep playlist is a good example. If that's not your style, hook up your computer to the speakers and let your guests take turns DJing.
5. Share in the cleanup.
It's no fun to be the person stuck doing dishes after everyone's gone. Help the host divide up the leftovers, load the dishwasher and take out the trash. They'll certainly thank you -- and isn't that what the holiday is all about?
© Copyright IBTimes 2023. All rights reserved.