What Is Google October 4? Pixel 2 Launch Date, Annoucement News Teased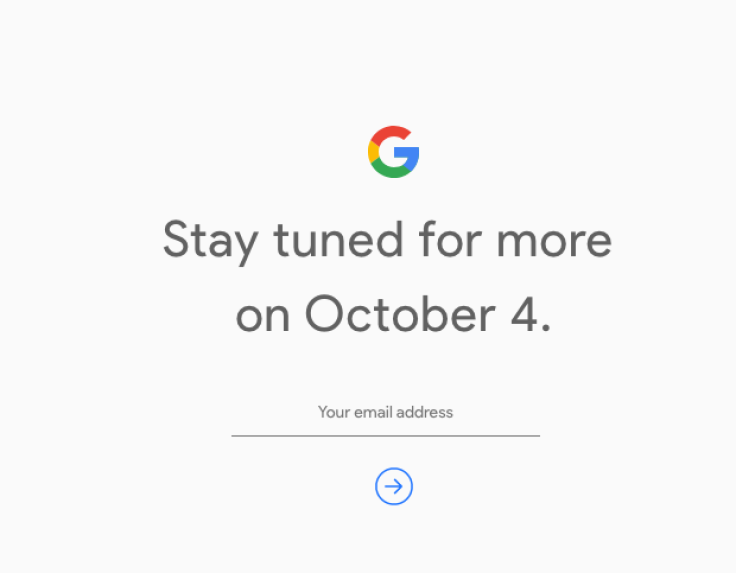 The hype in the smartphone market was all about the iPhone X, but Google is now asking consumers to "stay tuned for more on October 4" for its own device: the Pixel 2. Google even teased the launch date and announcement on its homepage, a rare thing for Google.
If users went to Google today the search bar and logo weren't the only things on the page" Ask more of your phone. Oct. 4" is written below the search bar along with a link. After clicking on the link Google asks "Thinking about changing phones? Stay tune for more on Oct. 4." Google then asks for your email address to sign up for more information.
On Thursday, Google also launched a website, and uploaded a teaser trailer for the Pixel 2. Google's marketing campaign comes after Apple revealed the iPhone X and iPhone 8 devices this week. Now that Apple's announcements are over, Google has started pitching its smartphone.
The website asks users if they're "tired" of their smartphones and asks them to keep an eye out on Oct. 4. The 35-second video doesn't show the Pixel 2, but it does tease the smartphone by showing an animation of people typing in questions into Google about their mobile device.
The video, titled "Funny You Should Ask," includes questions, like:
What's wrong with my phone's battery?

Why is my phone always out of storage?

Why does my phone take so many blurry photos?

Why doesn't my phone understand me?

Why can't my phone update itself?

Why is my smartphone so slow/hot/fragile/annoying/broken/cruel/impersonal/dumb?
Some questions, like the battery, temperature and camera, could be referring to improvements the Pixel 2 will offer.
The website and video come after a recently spotted billboard in Boston read "Ask more of your phone," with the Oct. 4 date and Google's multi-colored "G" logo.
According to the Verge, press invites for Google's event on Oct. 4 have been sent out, which means the company will reveal the Pixel 2 on that day. A previous leak had said the Google smartphone would launch Oct. 5.
Pixel 2 and Pixel XL 2 Rumors, Features
Google is expected to reveal the Pixel 2 and Pixel XL 2 this fall, a year after it revealed the original Pixel devices.
The Pixel 2 is rumored to sport camera technology that will include laser-detect autofocus, which helps the back camera take better pictures and videos in shaky and low-light conditions. The upcoming device is also expected to include the Google Lens software feature, which transforms the camera into an advanced information hub.
As for storage, Google is boosting capacity this time around. The Pixel 2 is expected to come with a 64GB base model, higher than last year's 32GB base versions.
The Pixel XL 2 will reportedly measure 5.9 inches and will include a screen that has an 18:9 aspect ration. Rumors claim the device will run on Qualcomm's Snapdragon 835 processor, which is also found on rival devices like LG's V30 and the Samsung Galaxy S8.
Recent leaks show the Pixel 2 will come in an aluminum black model with a black glass top-third, as well as a slate gray-looking glass window and a dark silver back according to 9to5Google. The Pixel 2 and Pixel XL 2 is also expected to come without a headphone jack.
© Copyright IBTimes 2022. All rights reserved.
FOLLOW MORE IBT NEWS ON THE BELOW CHANNELS