What Happened To Mary Tyler Moore? She's Hospitalized, Health Is In 'Grave Condition'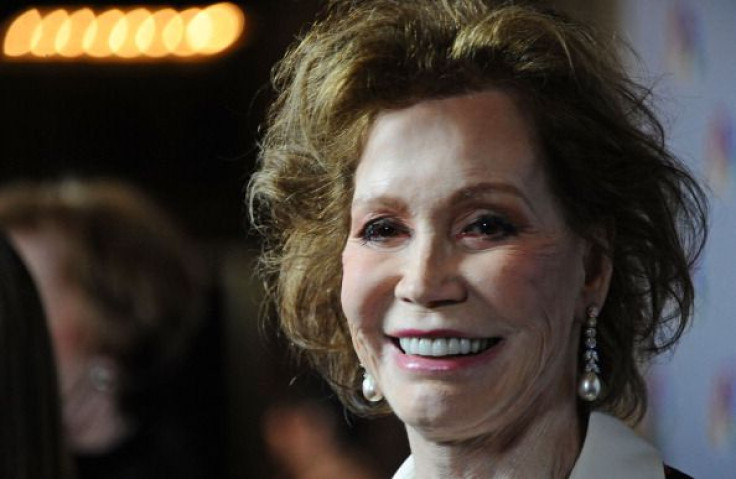 UPDATE: 2:40 p.m. EST — Mary Tyler Moore died Wednesday at the age of 80 years old, according to her longtime representative Mara Buxbaum.
Original story:
Actress Mary Tyler Moore is in "grave condition," TMZ wrote in an exclusive report Wednesday. The star's family rushed to the hospital to say goodbye to the 80-year-old. Moore was "critical" and "suffering from a number of health problems," the publication added.
While Moore's current state was "grim," her specific ailment was unknown. The actress battled diabetes for years and had brain surgery in 2011.
She is best known for her stints on "The Dick Van Dyke Show," where she played homemaker Laura Petrie for five seasons and then she starred in "The Mary Tyler Moore Show," playing a plucky Minneapolis newswoman, for seven seasons. Her sitcom garnered 29 Emmys. It's only been surpassed by "Saturday Night Live," "Game of Thrones" and "Frasier" in awards.
Some people might not know this, but Moore wrote a wig for the first season of her hit 70s comedy show. "She wanted to leave 'The Dick Van Dyke Show' behind her," Herbie J Pilato, founder of the Classic Television Preservation Society, told FoxNews.com Jan. 17. "In those days Mary wanted to distance herself from what she had done before."
The series is iconic, especially the scene where Tyler throws her hat into the air at the end of the beginning credits. Entertainment Weekly named it as the second greatest moment in TV history in 1999. The assassination and funeral of John F. Kennedy came in first place.
"Tossing the hat inspired so many women," former Minneapolis Mayor Sharon Sayles Belton told the Wall Street Journal in 2002. "It showed us we're capable. We're bold. And we're cute."
Moore celebrated her 80 birthday Dec. 29.
Her family did not immediate issue and official statement about her health. By Wednesday, TMZ was the only source to report she was in "grave condition."
Follow me on Twitter @mariamzzarella
© Copyright IBTimes 2023. All rights reserved.
FOLLOW MORE IBT NEWS ON THE BELOW CHANNELS