What Happened To Tom Brady's Super Bowl Jersey? Patriots Quarterback Fears Someone Stole His Game Uniform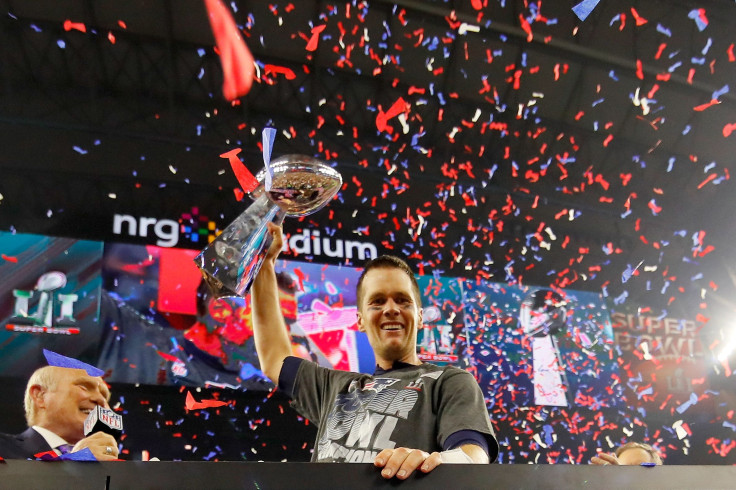 Following the New England Patriots' historic Super Bowl LI win Sunday, diehard fans are looking for any way they can to hold onto a piece of the action. One eager fan went above and beyond, snagging something near and dear to quarterback Tom Brady right out of the locker room.
Patriots own Robert Kraft paid the legendary NFL super star a visit after the game, at which time he learned what happened. Brady, 39, informed him that he believed "someone stole my game jersey." According to ABC News the five-time Super Bowl winner wasn't angry about the loss and did not have any suspects in mind. Kraft suggested he "look online" for the jersey and the NFL lent a helping hand, tweeting about the search for the missing piece of history.
The significance of the jersey is far deeper than the fact that Brady was wearing it when he and his team won Super Bowl LI. Before taking the field the father of three dedicated the big game to his mother Galynn Brady, who was in the stands for the first time all season due to an undisclosed illness. It was only after the Patriots had secured the win that the severity of the footballer's mother's condition was made public by Kraft.
"I spoke to [Tom] in the locker room before the game and I said, 'We gotta win this one for your mom,' because I know how important his mom is,'" the Patriots owner said in an interview with NESN. "She's been going through chemotherapy and radiation, and this is the first game she's been to. She came here, and I just saw her, and it was really cool."
Tom and the New England Patriots took home the Vince Lombardi Super Bowl Trophy after going into overtime against the Atlanta Falcons. The team had been trailing by more than 20 points before turning things around and eventually tying the game 28-28. In overtime, despite the Falcons' best efforts, Patriots player James White was able to score one final touchdown to secure the win.
© Copyright IBTimes 2023. All rights reserved.