What Malia And Sasha Obama Think Of Donald Trump: President Says Daughters Were Disappointed Their Side Lost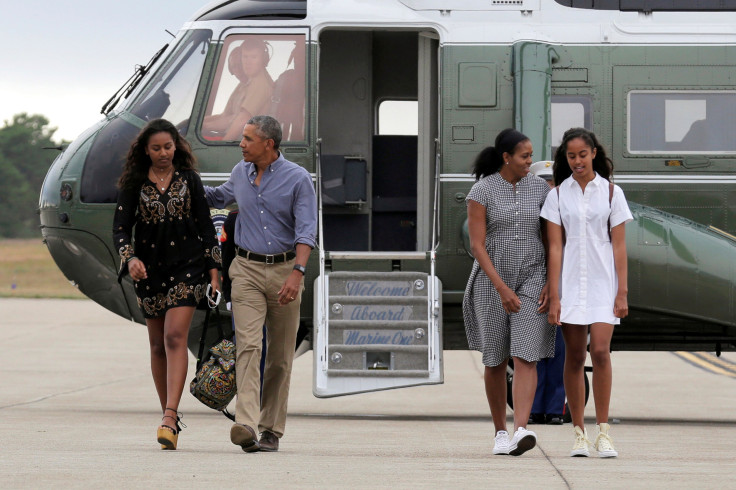 President Barack Obama said his teenage children were "disappointed" by the results of the November election, but he urged them not to take it personally or lose faith in democracy. Obama shared what Malia Obama and Sasha Obama thought of President-elect Donald Trump Wednesday during his final press conference.
Obama said his daughters didn't mope about the election results after Democrat Hillary Clinton lost to Trump. He and his wife had campaigned heavily for Clinton to become the nation's first woman president.
"It was really interesting to see how Malia and Sasha reacted. They were disappointed. They paid attention to what their mom said during the campaign and believed it because it's consistent with what we have tried to teach them in our household and what I've tried to model as a father with their mom and what we've asked them to expect from future boyfriends or spouses. But what we've also tried to teach them is resilience and tried to teach them hope and that the only thing that is the end of the world is the end of the world," he said.
Obama, who turns the White House over to Trump Friday after a contentious campaign season that saw Democrats portray the Republican businessman as a foe to anyone who wasn't a white man, is leaving the White House with high ratings. About 60 percent of Americans said he is doing a good job, his highest approval since June 2009, according to a CNN/ORC poll. Meanwhile, Trump has a 40 percent approval rating, the lowest of any incoming president-elect since Jimmy Carter in 1977, according to a Washington Post-ABC News survey.
Despite the animosity between many Democrats and the incoming president, Trump's spokesman, Sean Spicer, has said there haven't been any major problems with the Obama administration and the GOP team during the transition, calling it a future seen as a "gold standard."
After Election Day, Obama said he told his daughters to keep fighting for justice.
"What I say to them is that people are complicated," Obama said in November. "Societies and cultures are really complicated … This is not mathematics; this is biology and chemistry. These are living organisms, and it's messy. And your job as a citizen and as a decent human being is to constantly affirm and lift up and fight for treating people with kindness and respect and understanding. And you should anticipate that at any given moment there's going to be flare-ups of bigotry that you may have to confront, or may be inside you and you have to vanquish. And it doesn't stop … You don't get into a fetal position about it. You don't start worrying about apocalypse. You say, OK, where are the places where I can push to keep it moving forward."
© Copyright IBTimes 2023. All rights reserved.