What Is Pokémon GO Travel? Global Catch Challenge Kicks Off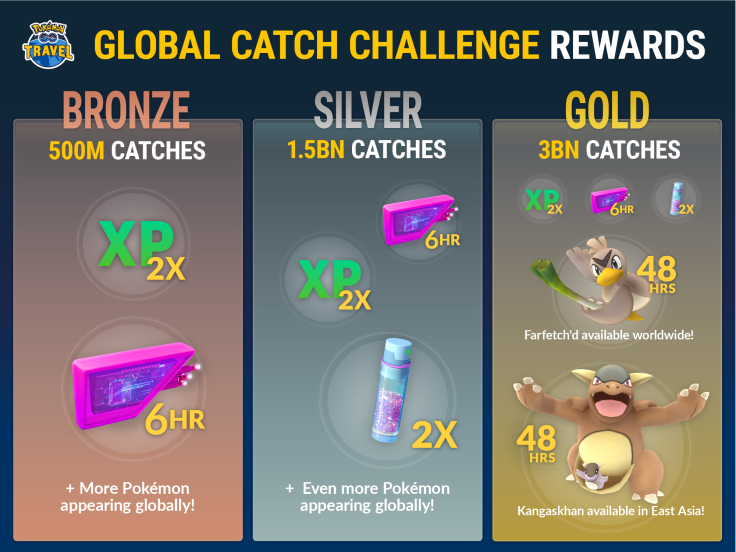 To create more excitement among players, Pokémon GO announced Sunday a new initiative called Pokémon GO Travel — "a new video series to see the world through the eyes of a Pokémon Trainer." It has already started with three players being flown to Japan to participate in the game's Global Catch Challenge.
A blog post from Sunday on the game's official website explained both the Challenge and the Travel concept: "Join us as we discover new places, meet new people, and work together in an attempt to catch 3 billion Pokémon in just 7 days. Play along with IHasCupquake, Coisa de Nerd, and Rachel Quirico as they learn more about Japanese culture, inspire the world to play together, and update you on the amazing rewards the community unlocks along the way."
There was also a YouTube video to promote the Global Catch Challenge, which runs from Nov. 20-26, ending "with a special celebration at the Pokémon GO Safari Zone event in Tottori, Japan."
Special items, challenges and bonuses will be released all through the week, but there are very few details available on exactly what the event will entail. One of the players in the video mentioned as much on his Twitter account, responding to other Twitter users (who are also Pokémon GO players) asking questions about it.
Some details are indicated on the game's website, but not much. One thing that is clear, though, is that Farfetch'd would be made available everywhere in the world, and Kangaskhan will also make its appearance, even though that would be limited to only East Asia for now.
Some players were quite enthusiastic about the new event.
© Copyright IBTimes 2023. All rights reserved.