What Is Tiffany Trump Up To? Donald Trump's Youngest Daughter Keeps 'Low-Key' During First White House Visit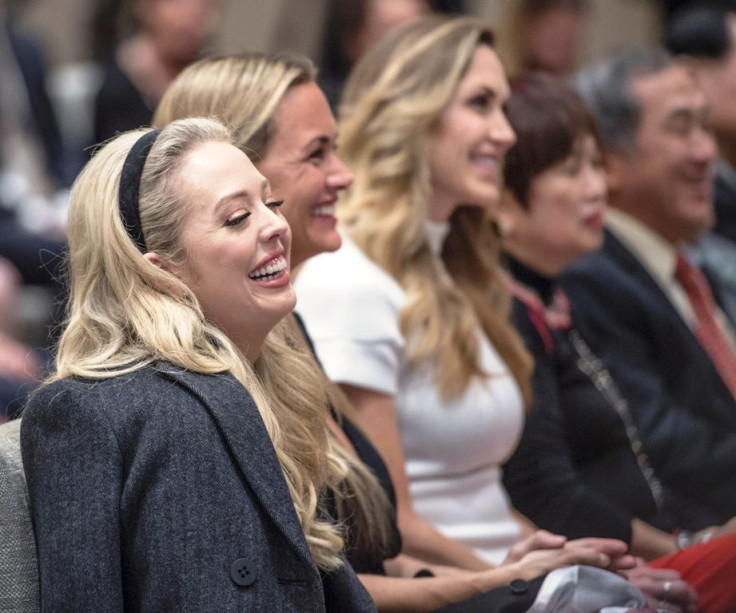 Tiffany Trump, the youngest daughter of Donald Trump, was missing from limelight following the president's swearing-in ceremony in January. Now, after more than two months, Tiffany made first public appearance at the White House Thursday to attend an event in support of the Wounded Warrior Project in Washington, D.C.
The 23-year-old kept her look for the event simple in a white silk shift dress and minimal jewelry. Sources told Cosmopolitan magazine that Tiffany "kept a low profile" at the event and quietly took her seat.
Tiffany reportedly arrived in Washington, D.C., from New York City Wednesday afternoon with her half-brother Eric Trump and his wife Lara. Unlike her half-sister Ivanka Trump, Tiffany has no plans of joining the White House, according to People magazine.
"Tiffany looks up to Ivanka but she is not angling for any kind of White house role like Ivanka has," a source told People, referring Ivanka's new role as adviser to her president father.
"Tiffany is younger and still figuring out what she wants to do … but when her dad calls upon her, she always tries to accommodate," the source told the magazine. "Of course he hasn't called upon her that much, but she's happy to help when he does, like giving the RNC speech."
Trump's presidential campaign, in fact, gave Tiffany a chance to get to know her 70-year-old father better, the source told People.
"The two also traveled together a lot on the campaign … that was a really meaningful time for Tiffany because they got some one-on-one time on the private plane," the source reportedly said. "It's actually some of the only time she's ever been alone with him as an adult."
Apart from Tiffany, Wednesday's event was also attended by Trump and the first lady Melania Trump along with Vice President Mike Pence and his wife, Karen Pence, CBS reported.
The Trump family will head over to the president's exclusive club, Mar-a-Lago, in Palm Beach, Florida over the weekend. Trump will be hosting Chinese President Xi Jinping and his wife Peng Liyuan at the lavish estate during the time.
© Copyright IBTimes 2023. All rights reserved.