What Is 'Under The Sea'? Disney Channel Announces Pre-'Descendants 3' Special
Those watching Disney Channel's "Freaky Friday" saw the trailer for a "Under the Sea: A Descendants Story." While some may have interpreted it as a trailer for the third full-length film, it's actually a bit smaller than that.
"Under the Sea" is a 10-minute special premiering Friday, Sept. 28 at 7:50 p.m. EDT on Disney Channel. As revealed in the trailer, the special will feature Dove Cameron and Anna Cathcart as Mal and Dizzy, respectively.
But of course, it's called "Under the Sea" because Ursula's daughter Uma will be at the center of it. China Anne McClaine will reprise her role, and her pirate gang will return too with Thomas Doherty playing Harry and Dylan Playfair as Gil.
Disney Channel promises Mal and Uma will have "an epic underwater showdown" in the "Descendants" short. Fans can also expect "dazzling visual effects and high-energy music and dance."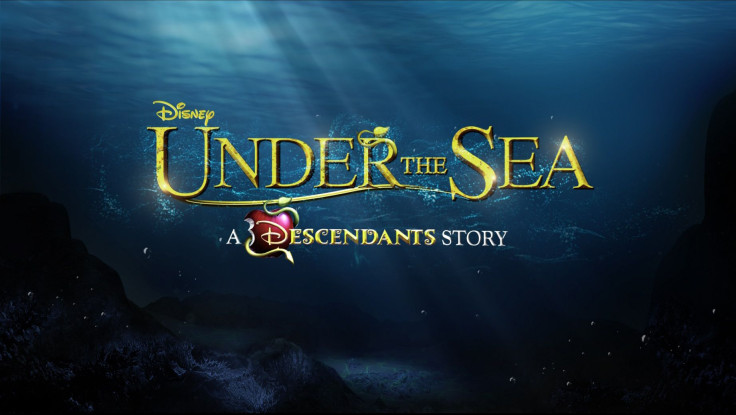 The trailer (seen at the top of the page) makes it look like Mal could be in trouble. The daughter of Maleficent runs into Dizzy by the shore at nighttime, and Dizzy asks what she's doing here. Mal says was wandering through the woods when she came across a glowing orb, but she can't finish her story because she has to wonder why Dizzy is wearing Uma's necklace. Dizzy reveals a mischevious smile.
Uma, of course, is Mal's arch nemesis. She believes Mal abandoned the Isle of the Lost and wanted to take over Auradon. She tried kidnapping Ben and even casting a love spell on him. All of her attempts were thwarted, but she warned viewers at the end of "Descendants 2" that her story wasn't over yet.
"Under the Sea" will have to tide over fans of the Disney Channel Original Movies until the third installment debuts.
When they aren't filming "Descendants" projects, Cameron and McClaine have been exploring superhero projects. Cameron played the villainous Ruby for an arc on "Marvel's Agents of S.H.I.E.L.D.," and she is voicing Ghost-Spider/Gwen Stacy on "Marvel Rising: Initiation," which premieres Monday on Disney XD. McClaine scored a role as a series regular on The CW's "Black Lightning" as Jennifer Pierce/Lightning, and the drama will return for Season 2 in October.
"Descendants 3" does not have an exact premiere date but is expected to arrive in summer 2019.
© Copyright IBTimes 2023. All rights reserved.