Sofia Carson Talks 'Descendants 3,' Touring And Dream TV Guest-Starring Roles
It's hard not to come under Sofia Carson's spell when watching her on Disney Channel or listening to her music.
Carson, 24, broke out as Evie in Disney's "Descendants" in 2015, really taking the character and bringing her to life. In the two years since, she starred in another DCOM, a remake of "Adventures in Babysitting" with Sabrina Carpenter in 2016, played the lead in the fourth "A Cinderella Story" film and reprised her role of Evie in the "Descendants" sequel, which was just released this summer.
The actress has had a very busy couple years, but she still found time to focus on another one of her loves: music. Carson, who's co-signed to Hollywood Records and Republic Records, released her debut single "Love is the Name" in 2016 and followed it up with "I'm Gonna Love You" later that year, before dropping the infectious track "Back to Beautiful" at the start of 2017.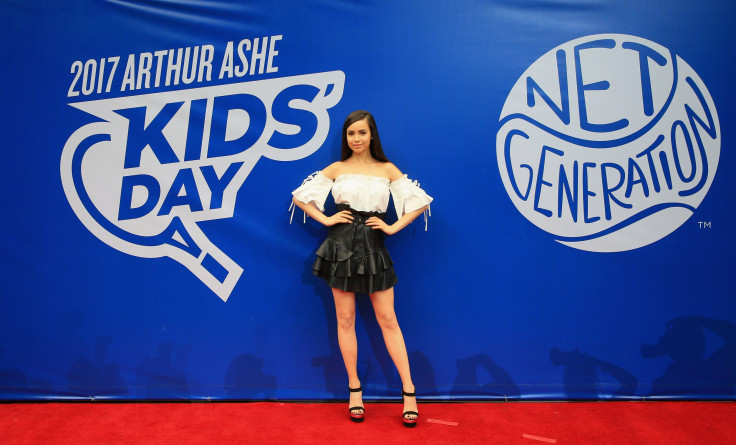 Fast-forward to present day, the talented actress/singer released her latest single, "Ins and Outs," on Aug. 25, performing it at the U.S. Open's Arthur Ashe Kids' Day the following day in New York. She hit the stage right in Arthur Ashe Stadium and sang her heart out. She only made it even clearer as to why she's here and why she's here to stay.
International Business Times spoke with Carson at the event and she gave IBT the lowdown on all things music, a "Descendants 3" and tour, as well as which shows she'd love to guest star on.
International Business Times: You just dropped your new single, "Ins and Outs," will there be a music video coming soon?
Sofia Carson: There will be. Yes, there will be. I can't say too much about it, but yes, and I'm very excited.
IBT: You've released a few singles now, is there going to be an album?
Carson: There will be, yes.
IBT: Would you want to do a "Descendants" tour, like Disney did with "The Cheetah Girls" and "High School Musical?"
Carson: Oh my God, I would love to. I would absolutely yes, hands down I'm there.
IBT: What can you tell us about a possible "Descendants 3?"
Carson: You know what, the whole cast would love for that to happen. I think it's up to the fans, to see their reaction, if they love the second film as much we do, hopefully they'll be a third.
IBT: What would you want to happen for your character, Evie?
Carson: You know what, I've thought a lot about this and I wonder if maybe we see a little bit of bad in Evie for a second. It might be cool. But, we'll see.
IBT: You've done a lot of Disney movies. Would you want to do a Disney Channel show?
Carson: Absolutely, why not?
IBT: Is there a show that you'd love to guest star on?
Carson: Yeah, "Big Little Lies" is just amazing. And I really, really love "The Bold Type" on Freeform. I'd love to guest star on that.
Quite the fashionista and already in the Disney family, Carson would be a perfect fit for Freeform's "The Bold Type." Not to mention, she already had a guest role on Katie Stevens' last series, "Faking It," so this would be the perfect chance for them to reunite.
© Copyright IBTimes 2023. All rights reserved.