What Would Be Kate Middleton, Meghan's Titles If They Divorced William, Harry?
Royal fans discussed Kate Middleton and Meghan Markle's possible titles if they were to divorce their husbands Prince William and Prince Harry, respectively.
One netizen took to Quora and asked if Middleton and Markle would go back to being just "Ms. Meghan Markle" and "Ms. Kate Middleton" if they divorced their royal husbands. The majority of the netizens shared the same response.
According to Sallie Smythe, an avid reader of royal biographies, Markle would no longer be "HRH The Duchess of Sussex" but "Meghan, Duchess of Sussex." The same applies to Middleton; she would be "Catherine, Duchess of Cambridge" from being "HRH The Duchess of Cambridge."
She noted that this was what happened to Princess Diana following her divorce from Prince Charles. She lost her HRH status along with the right to be addressed as "The Princess of Wales."
"No HRH, no 'The' in front of Princess of Wales, and the addition of her forename; Diana," Smythe wrote.
"My understanding, and I'm not a citizen of the U.K. — they would retain their title of Duchess of xxx, with the exception of The. The would only be used by the woman married to the Duke," Robyn Edwards, a history buff and follower of British royal family, added.
Both Middleton and Markle's marriages were plagued with divorce rumors this year. In March, rumors broke that Prince William cheated on Middleton with their family friend, Rose Hansbury. The speculations intensified when Giles Coren confirmed the alleged affair and said that "everyone knows about the affair."
However, many believed that it was not true. A number of royal fans defended the Duke of Cambridge. One said that Prince William is too smart to cheat on Middleton. Also, they found the future king happier when he is with his wife. The Duke and Duchess of Cambridge continue to carry out royal engagements together and show no signs of a strained marriage.
On the other hand, in January, there were rumors that the palace was in crisis talks over Prince Harry and Markle's alleged divorce. Royal fans doubted the report and said that the Duke and Duchess of Sussex were so in love to divorce.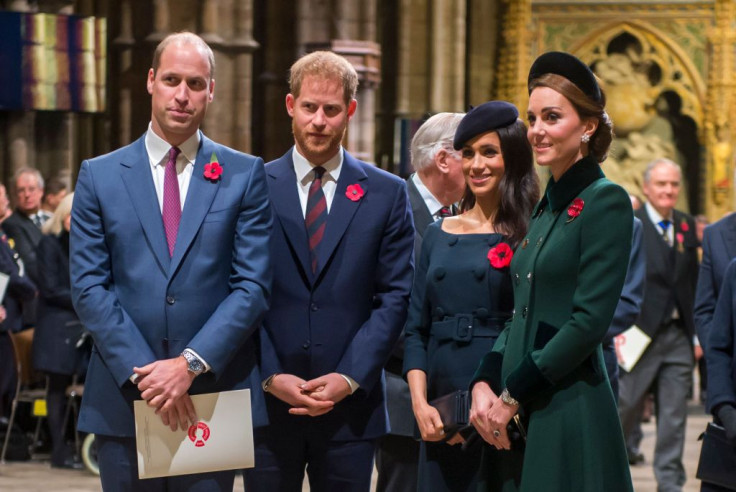 © Copyright IBTimes 2023. All rights reserved.