What's Happening With Muslims At Airports? At JFK Airport, Lawyers And Translators Offer Services Pro-Bono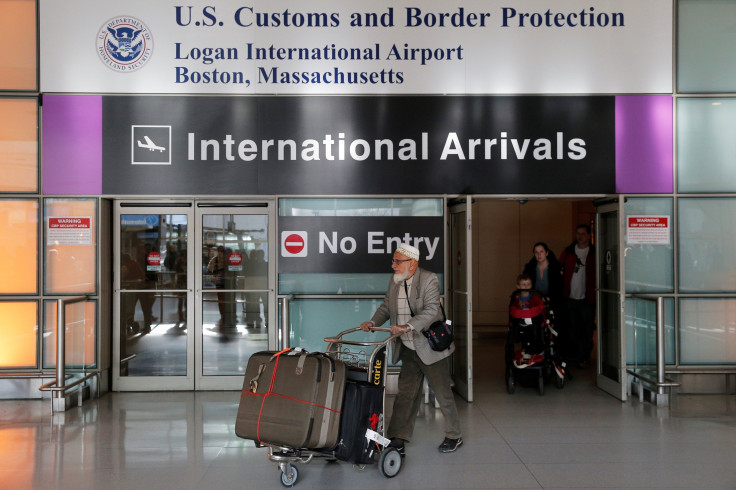 It was quiet Monday morning at Terminal 4 at John F. Kennedy Airport in New York City. There was no sign of protesters, and nobody was chanting "Let them in!"
Instead, a group of lawyers and translators is gathered at the Central Diner, a small, red-paneled building sitting in the arrivals gate of the terminal. At about 9 a.m., about 20 volunteers were working. By 2 p.m., upwards of 50 gathered — some wore suits, others vests and hoodies, most of them relatively young. Some sat at tables, drinking coffee donated from Dunkin' Donuts. Others sat on the floor and typed away on their laptops. For many, heavy bags under their eyes indicated that they'd been awake and working all night.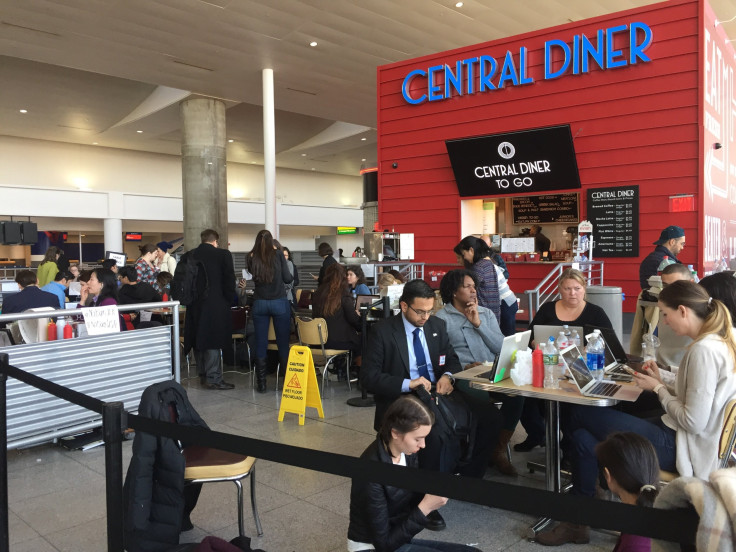 They had worked all weekend long and into Monday, but they weren't being paid. These lawyers were part of the on-the-ground effort opposing President Donald Trump's executive order temporarily banning refugees and people from the Muslim majority countries of Iran, Iraq, Libya, Sudan, Somalia, Syria and Yemen. Trump signed the order Friday. As of Monday, 630 lawyers in New York were signed up to volunteer their time and services at JFK Airport.
"Mobilization was incredible, but it was a bit of a logistical headache," Camille Mackler, director of legal initiatives at the New York Immigration Coalition, said Monday.
The American Civil Liberties Union, which raised $24 million over the weekend, filed lawsuits at the federal level, and one of those lawsuits halted deportations Saturday night. But it's the motley crew of volunteer lawyers at the airport who worked pro bono on the ground. They communicated with individuals' families to file habeas corpus petitions to release travelers who had been detained at airports.
By Monday afternoon, 42 people had been released from airports after being detained. Two other travelers were deported before Saturday's federal ruling. Two were unaccounted for, with family members concerned that they had been detained, although that hadn't been verified. And Monday afternoon, the legal group received reports that at least nine people, including one child, who flew in from Saudi Arabia were held for multiple hours at JFK, although the nationality of the travelers who were detained for questioning was unclear.
It's difficult to verify this information, Mackler said, because the Department of Homeland Security and the U.S. Customs and Border Protection were not communicating with the lawyers.
Lawyers arrived Saturday, an unprompted effort with the goal of freeing travelers who had been detained at the airport for several hours. More and more attorneys joined throughout the day, including those from the New York Immigration Coalition, and their outpost turned into an organized system. They've stayed in Terminal 4 ever since, trading shifts so they could sleep and shower.
When volunteer lawyers arrived at the Central Diner, they were assigned to work with a group, each handling a different task: tracking flights of travelers; corresponding with family members; translating; and promoting the group on Reddit and Twitter. Some attorneys were dispatched to help any traveler who might need help when landing.
"It's a matter of triage to see who needs help," said Sara Lind, an attorney who's now in graduate school at Columbia University in New York City.
The number of detainees has been decreasing since the attorneys arrived at JFK Airport, but now the legal group is grappling with other challenges. For one, there's the issue of people being rejected from flights at foreign airports. Although Homeland Security Secretary John Kelly said green card holders would be allowed into the United States, travelers do not receive their green card until landing in the U.S. People set to board planes in foreign countries with green card paperwork have been turned away because they did not have the green card itself, said Mackler.
In addition, the New York Immigration Coalition received reports that some people were stopped from boarding planes by having their visas blocked. Travelers with visas are allowed to enter the U.S. on a case-by-case basis. The group of lawyers at JFK was working with the Urban Justice Center, a non-profit legal advocacy group, to communicate with people who are being turned away abroad.
What's more, two of the travelers who were detained and then released were from Saudi Arabia and Senegal — two countries not affected by the ban. It's possible that these travelers were refugees and therefore affected by Trump's executive order, Mackler said. But the uncertainty surrounding why they were detained has raised questions about how the ban is being implemented, and whether other countries are next on the ban list.
"We're still here, and we're going to keep being here for the foreseeable future," Mackler said.
© Copyright IBTimes 2023. All rights reserved.