What's Next For Hillary Clinton? Poll Says She'd Beat De Blasio In New York Mayor Race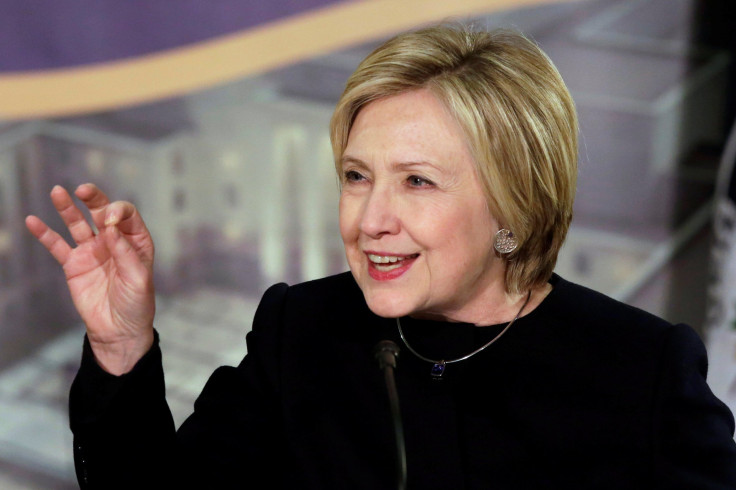 As Hillary Clinton prepares to attend the inauguration of President-elect Donald Trump, a poll Wednesday indicated the former Democratic presidential nominee could be the next mayor of New York — if she wanted.
Quinnipiac University found if Clinton ran as an independent against Democratic New York Mayor Bill de Blasio in a runoff, she would beat him 49 percent to 30 percent. In a head-to-head race among Democrats, she leads him 61 percent to 29 percent.
Clinton won the popular vote in the 2016 presidential race nationally by 3 million votes and overwhelmingly won her adopted hometown of New York, receiving 79 percent of the vote, nearly 2 million votes to Trump's 461,184.
Clinton has not said she's interested in running for mayor, and Politico reported she's spent the time since the election coming to grips with her defeat. But she has not shot down rumors she might run.
The next New York mayoral election is Nov. 7.
New Yorkers are divided on how de Blasio is doing in office. Forty-five percent approve of the job he's doing while 46 percent disapprove. On whether he deserves re-election, 49 percent said no, 42 percent, yes.
"New Yorkers aren't in love with Mayor Bill de Blasio, but they seem to like him better than other possible choices — except Hillary Clinton, who probably is an impossible choice," said Tim Malloy, assistant director of the Quinnipiac University Poll.
"None of the possible contenders has made any real noise or spent any money, so this race still could get interesting."
The poll indicated de Blasio would win a Democratic primary but just with a plurality, meaning he would face a run-off. If the field included former City Council Speaker Christine Quinn, city Comptroller Scott Stringer, Rep. Hakeem Jeffries, Bronx Borough President Ruben Diaz Jr. and state Sen. Tony Avella, the poll indicated de Blasio would eek out 40 percent.
If Clinton is thrown into the mix, she leads de Blasio 61 percent to 29 percent among Democrats and 45 percent to 31 percent among independents. Among Republicans, de Blasio leads 28 percent to 18 percent. She also leads among men, women, black, white and Hispanic voters. The only borough where de Blasio leads is Staten Island.
Half of voters say de Blasio is trustworthy.
The poll was conducted Jan. 11-17 among 1,138 New York City voters. It had a margin of error of 2.9 percentage points.
© Copyright IBTimes 2023. All rights reserved.