'When Calls The Heart' Season 5 Spoilers: Episode 8 Exclusive Clip, Synopsis
Season 5 of Hallmark Channel's "When Calls the Heart" continues on Sunday with a new episode called "Weather the Storm." The season might be winding down, but the drama is still heating up.
At the end of last week's episode, fans saw Mr. Jenkins (Milo Shandel) making a deal with Joshua Baxter (Shaughnessy Redden), an investor AJ Foster (guest star Josie Bissett) said was a dirty businessman, before Abigail and Bill could stop him. In this International Business Times exclusive clip of the new "When Calls the Heart" episode, it's revealed that Abigail's able to delay the deal for a little bit to think of a new plan. Unfortunately, after having Mr. Jenkins hold up the paperwork, it appears she's unable to complete her goal of convincing Mrs. Preston (Jill Teed) to come onboard as a replacement investor.
"Please, Mrs. Preston, I wouldn't have convinced Mr. Jenkins to delay the paperwork if I didn't think you were the better choice," Abigail says during her and Henry's sit-down meeting with Mrs. Preston in this clip.
"Well, I have no doubt that I'm the better choice, but I have two rules, and as a woman working in a man's world, I'm sure you all understand, I don't get overlooked and I don't play for second place," Mrs. Preston responds.
With that, the businesswoman wishes them the best of luck with Baxter and heads out, leaving Abigail and Henry to wonder about what they're going to do next to save the town from getting into bed with an investor who isn't so savory.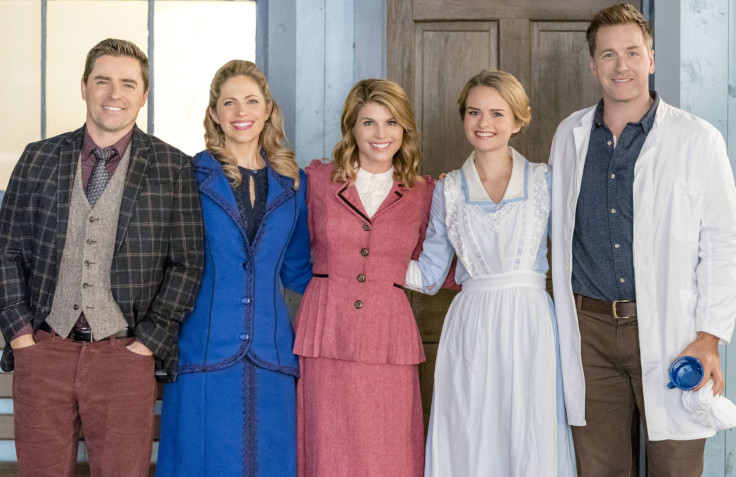 While Abigail and Henry figure out what they want to do, Bill (Jack Wagner) gets himself in a life-threatening situation while bringing AJ to trial, according to the episode's promo. After getting off their horse to take a break during their travels, Bill's bit by a poisonous snake, but before they can head off to get treatment for him, the horse gallops away. The two are stuck in the forest together, with Bill noting that without the anti-venom medicine, he only has about one day until his heart stops. This only brings the two of them even closer.
Also, "Carson (Paul Greene) is faced with a life and death medical decision," according to the "When Calls the Heart" synopsis, while "Elizabeth (Erin Krakow) tries to reunite a mother and her son." Guest starring in the episode, aside from Bissett, is Andrea Brooks as Faith Carter. The new broadcast was written by Derek Thompson, who's produced and written a few episodes of the series, and directed by Peter DeLuise, who's worked on multiple "When Calls the Heart" episodes and other Hallmark productions.
This new "When Calls the Heart" airs on Sunday at 9 p.m. EDT on Hallmark Channel.
© Copyright IBTimes 2023. All rights reserved.