When Is Donald Trump's Inauguration? Full Schedule, Where To Get Tickets For Trump Inauguration Day 2017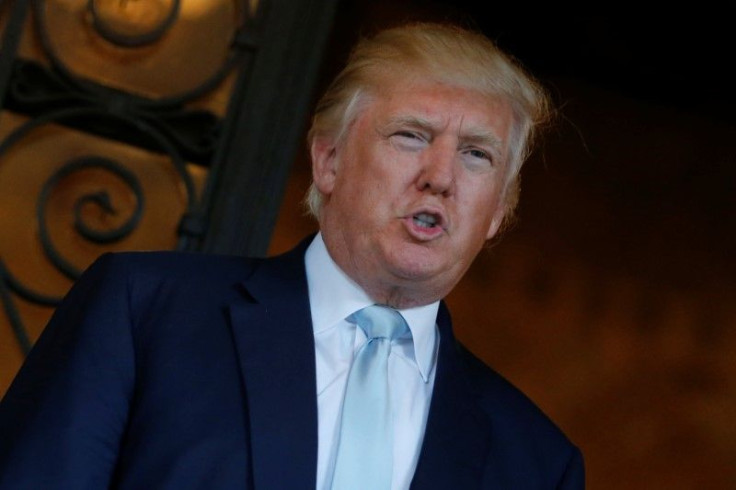 The inauguration of Donald Trump as the 45th president of the United States is scheduled to take place on Jan. 20 in Washington, D.C. Here's a look at Trump Inauguration Day 2017, the events surrounding the inaugural ceremony and the full schedule.
Inaugural events for Trump are scheduled to begin Thursday, Jan. 19, with a welcome celebration kicking off the events followed by the president-elect and Vice President-elect Mike Pence laying a wreath at Arlington National Cemetery. That event will be followed by a welcome concert at the Lincoln Memorial.
"The 2017 inaugural celebrations will reflect President-elect Trump's eagerness to get to work in order to make our country safer and stronger," said Tom Barrack, chairman of the Presidential Inaugural Committee (PIC). "President-elect Trump is committed to unifying our country as we once again celebrate the foundation of our American system and the peaceful transfer of power."
Trump and Pence will be sworn in at the Capitol Friday, Jan. 20, where they will participate in the parade down Pennsylvania Avenue. The official inaugural balls that will be held on the same day will feature an appearance by president and the first lady, and vice president and Mrs. Pence.
On Saturday, Jan. 21, Trump and Pence will attend a national prayer service at the Washington National Cathedral, which will conclude the celebration.
Donald Trump Inauguration Parade: Full list of participants
1st Cavalry Division Horse Cavalry Detachment
1st Infantry Division Commanding General's Mounted Color Guard
Boone County Elite 4-H Equestrian Drill Team
Caisson Platoon, Fort Myer
Cleveland Police Mounted Unit
Coastal Florida Police & Fire Pipes & Drums
Columbus North High School Band
Culver Academy Equestrian
First Troop Philadelphia City Cavalry
Fishburne Military School Army JROTC Caissons Battalion
Frankfort High School Band
Franklin Regional High School Panther Marching Band
Indianapolis Metro Police Motorcycle Drill Team
Lil Wranglers
Marist College Band
Merced County Sheriff's Posse
Michigan Multi-Jurisdictional Mounted Police Drill Team & Color Guard
Mid America Cowgirls Rodeo Drill Team
Nassau County Firefighters Pipes & Drums
North Carolina Vietnam Helicopter Pilots Association
NYPD Emerald Society Pipes & Drums
Olivet Nazarene University's Tiger Marching Band
Palmetto Ridge High School Band
Russellville High School Band
Talladega College Band
Texas State University Strutters
The Citadel Regimental Band & Pipes and Summerall Guards
The Freedom Riders
Tupelo High School Band
University of Tennessee Marching Band
VMI Corps of Cadets
West Monroe High School Marching Band
American Veterans
Boy Scouts of America
U.S. Customs and Border Protection Office of Field Operations
Disabled American Veterans
Paralyzed American Veterans
Tragedy Assistance Program for Survivors
U.S. Border Patrol Pipes & Drums
Wounded Warrior Project and Kids Overseas
How to get tickets?
Tickets to the swearing-in ceremony are made available to the members of Congress, who later make it available to their constituents. Several members of the New Jersey congressional delegation reportedly plan to hold lotteries to award the tickets.
Tickets for the parade, balls and other events are available through the Presidential Inaugural Committee. Details of the sale of tickets are yet to be released.
© Copyright IBTimes 2023. All rights reserved.