When Is MLK Day 2017? How Americans Came To Celebrate Martin Luther King Jr. With National Holiday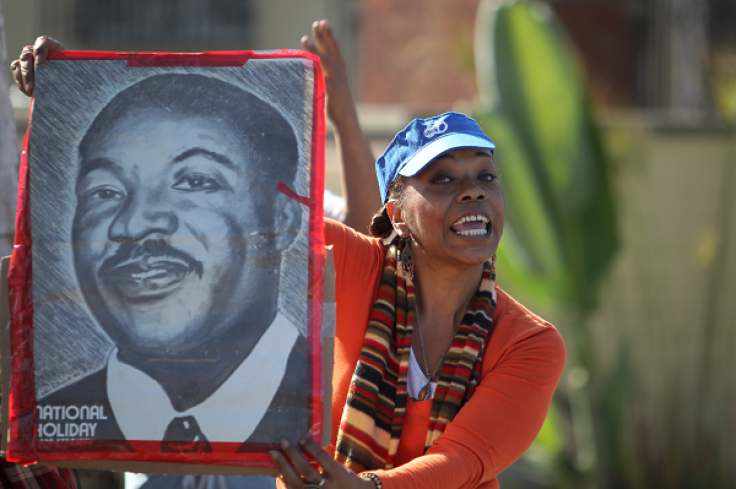 Americans will celebrate the life of civil rights leader Rev. Martin Luther King, Jr. on Monday, just one day after what would have been his 88th birthday. Since MLK Day is a federal holiday, many schools and federal employees across the states will have the day off to honor and recognize the incredible impact King's work and legacy has had on healing racial divisions.
The Baptist minister, who was born in Atlanta in 1929, is considered one of the greatest and most influential figures of the civil rights movement. King's heart-moving speeches and ability to unite people in a peaceful way through activism is credited for ending legal segregation of African Americans and the creation of Civil Rights Act of 1964 and the Voting Rights Act of 1965.
However, King's contributions and effort to generate inclusion for black Americans, economically disadvantaged and victims of injustice, which ultimately led to his assassination in 1968, didn't become recognized as a national holiday until 1983, when it was signed into law by Ronald Reagan.
A day recognizing King's influence on American society was first suggested by Rep. John Conyers, D-Mich., one week after King was killed in April 1968. Initially, the bill suggested making Jan. 15, King's actual birth date, a national holiday. However, the bill was dismissed.
In June of the same year, King's wife, Coretta Scott King, opened up the Martin Luther King Center for Nonviolent Social Change in Atlanta, which continued to push for social justice and equality for minorities. The first issue the organization set out to handle, though, was lobbying for MLK Day, which Scott King said would serve as "a day of interracial and intercultural cooperation and sharing," according to a New Yorker report.
With over 3 million signatures, King's wife issued a petition to Congress advocating for the holiday in 1971. Two years later, an Illinois state representative, Harold Washington, who had been elected the first black mayor of Chicago, introduced a bill making Illinois the first state to recognize MLK Day. Unfortunately, when the bill went before Congress again in 1979, it still failed by five votes despite support from President Jimmy Carter.
It wasn't until November 1983, following a heated congressional moment that could have potentially revoked the 1964 Civil Rights Act, when Reagan signed the bill declaring every third Monday of January to be celebrated as Martin Luther King, Jr. Day.
© Copyright IBTimes 2023. All rights reserved.