When Will We Know Who Is President? Election Night 2016 Timeline Of Results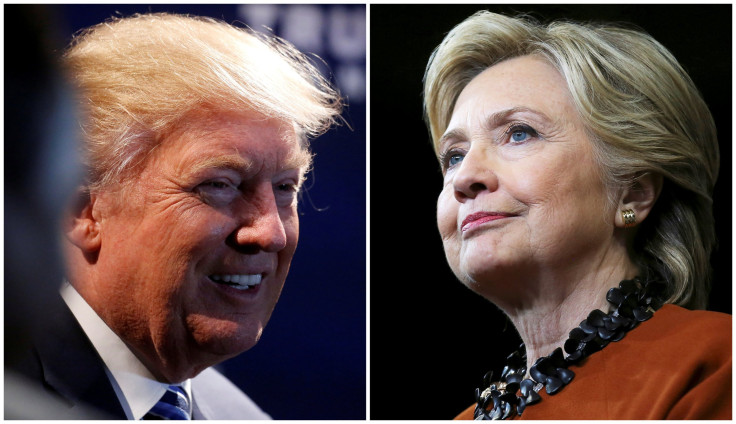 As the polls tighten in the finals days of the election, the possibility has increased that election night could run into the next morning before a result is declared. Even with fairly decisive outcomes, the time that the election results are called has been pushed back later in recent years, in part because of the greater number of electoral votes in Western states like Texas and California.
In the 1980s and 1990s, call times of 8 p.m. and 9 p.m. Eastern Time, long before polls had closed on the West Coast, were common. The last three elections, however, have been called between 11 p.m. and 11.30 p.m. Eastern Time.
But with Donald Trump already suggesting he will refuse to accept a result that doesn't declare him the winner, a similar controversy to what happened during the infamous 2000 election cannot be ruled out. That year, the presidential contest wasn't decided until more than a month after Election Day, after the intervention of the Supreme Court in an election law case between George W. Bush and Al Gore. On that night, the major networks were in a tough spot, calling the race one way, retracting, calling it the other way, then retracting once more. Since then, they have been understandably more hesitant about early projections.
This is likely to be especially true Tuesday night in Florida, the state at the heart of the 2000 controversy. Although the majority of the polls close in the Sunshine State at 7 p.m. on the East Coast, the state's panhandle is in the central time zone, delaying projections further. Add to that the fact that polling suggests a close race and the phrases "too close to call" and "too early to call" could be rolled out for hours on Election Day to describe the battle.
Two more key battleground states, Ohio and North Carolina, follow in closing at 7.30 p.m., with Michigan and Pennsylvania following at 8 p.m. By the time Arizona polls close an hour later, we should have an idea about what kind of race it is. If it looks like Hillary Clinton will take Florida, Ohio and Arizona, then Trump's path to the presidency could be a doomed one. But if Trump does remain in the running in those key states, it could be a very late night.
Poll Closing Times for Key States (EST):
7 p.m.: Florida, Virginia
7.30 p.m.: North Carolina, Ohio
8 p.m.: Michigan, New Hampshire, Pennsylvania
9 p.m.: Arizona, Colorado, Wisconsin
10 p.m.: Iowa, Nevada
© Copyright IBTimes 2023. All rights reserved.