Where Is Casey Anthony Now? Timeline Of Caylee Murder Trial And What Happened To The Infamous Florida Mother Accused Of Killing Her Daughter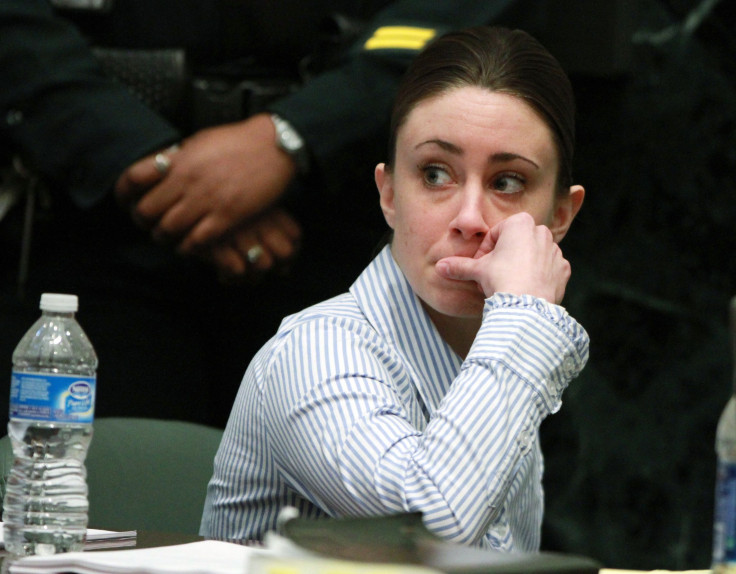 It's been almost six years since she was acquitted, but earlier this week, Casey Anthony's name was in the headlines once more.
The Orlando, Florida, woman who was charged and acquitted in 2008 of killing her 2-year-old daughter, Caylee, may not have been innocent after all, said the judge who presided over the case. The judge said he believed Anthony had accidentally killed her daughter with chloroform.
The trial made national headlines in 2008 and Anthony has intermittently been in the headlines ever since.
June 15, 2008 — This was the day when Anthony claims she saw her daughter for the last time. According to Anthony, she dropped Caylee off at her babysitter's house in Orlando. But when she went back to pick up Caylee, neither Caylee nor the babysitter were anywhere to be found.
July 15, 2009 — One month later, Caylee was reported missing and it wasn't Anthony who reported it. In fact, it was Anthony's mother, Cindy Anthony, who called 9-1-1 and said "I found out my granddaughter has been taken, she has been missing for a month." Cindy Anthony also said, "I found my daughter's car today and it smelled like there's been a dead body in the damn car," but she later retracted that statement.
When police asked why Anthony did not report her daughter missing, she said she was looking for her daughter herself.
July 16, 2008 — The next day, Anthony was arrested and charged with child neglect. She told police that she couldn't find her daughter at her babysitter's house one month before, and she said she had launched her own investigation into looking for her missing daughter. But police found that the babysitter's apartment had been neglected for more than 140 days — far longer than Anthony claimed Caylee and the babysitter had been missing.
July 22, 2008 — Detectives revealed they found strands of hair that resembled Caylee's hair in the trunk of the Anthonys' family car. Dogs also smelled human decomposition in the trunk. That's when police officially named Anthony a person of interest.
July 24, 2008 — Cindy Anthony said she saw her granddaughter in Georgia. However, police were never able to verify the report.
Sept. 1, 2008 — The Orange County Sheriff's Office issued a statement saying that police believed Caylee was no longer alive.
Sept. 5, 2008 — Anthony was released from jail after an anonymous donor paid her $50,000 bond "because of the belief that Ms. Anthony's constitutional rights have been grossly violated," Anthony's attorney said.
Sept. 29, 2008 — Anthony returned to jail after she was arrested on multiple charges including child neglect, lying to investigators and petty theft.
Oct. 2, 2008 — Police named Anthony a suspect in her daughter's disappearance.
Oct. 14, 2008 — Police charged Anthony with first-degree murder, aggravated child abuse, aggravated manslaughter and providing false information to law enforcement.
Oct. 24, 2008 — Police found evidence of chloroform and chemical compounds consistent with body decomposition in the trunk of Anthony's car.
Dec. 11, 2008 — A skull belonging to a small child was found half a mile from Anthony's home. Police said they were "somewhat confident" that the skeletal remains belonged to Caylee.
Dec. 19, 2008 — Police announced that, due to results of DNA testing, they confirmed that the human remains belonged to Caylee.
Jan 23, 2009 — Caylee's grandfather, George Anthony, was found despondent and under the influence of alcohol and medication, police said. Authorities also discovered a five-page suicide note he'd written.
April 13, 2009 — Despite the fact that prosecutors said they wouldn't seek the death penalty in December, they changed their minds and announced their decision in April.
Dec. 18, 2009 — Judge Stan Strickland ruled that Anthony could face the death penalty, deciding that it should best be left up to a jury whether Casey should be executed.
April 7, 2010 — More information was discovered about the case when Anthony's jailhouse letters and inmate police interviews were released. One inmate claimed Anthony said she used to "knock out" Caylee — possibly with chloroform — at night so that Anthony could go out at night and avoid hiring a babysitter.
May 25, 2011 — The trial began with Anthony's lawyer, Jose Baez, opening her defense. He said Caylee had accidentally drowned in the family's pool June 16, 2008, and he claimed Anthony's father George had helped with the coverup. Anthony's attorneys also said she was sexually abused by her father and her brother.
June 23, 2011 — After prosecutors found searches for "chloroform" and "neck breaking" on the Anthonys' home computer, Anthony's mother Cindy said she was the one who had searched for the terms — not her daughter. The prosecutors had claimed that Anthony had knocked Caylee out with chloroform and then suffocated her by putting duct tape over her nose and mouth.
July 1, 2011 — The prosecution questioned Cindy Anthony's claim that she had searched the incriminating terms. She was at work at the time of the searches, they said, according to computer records from the hospital where she worked.
July 5, 2011 — The jury found Anthony not guilty of murdering her daughter. The trial lasted a month and a half, but jury deliberations lasted less than 11 hours. The jury did, however, convict Anthony on four counts of providing false information to law enforcement. She was charged with four years of jail, but had already served three years and was credited with good behavior. She was also fined $4,000.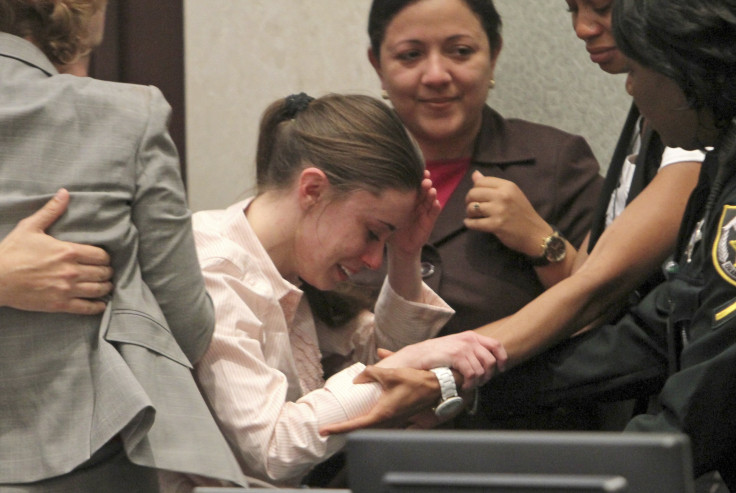 July 11, 2011 — Anthony is released from jail.
July 2011 — Several states begin to work on "Caylee's Law" bills, which would tighten rules on how quickly people are required to call in a missing person's case.
January 2012 — Anthony adopted a Yorkshire Terrier, and was skewered by actor Daniel Radcliffe on Saturday Night Live.
"I think that perhaps that the dog adoption process could be slightly more diligent," Radcliffe, dressed up as the terrier, said on SNL's Weekend Update segment. "For instance, when someone comes in to adopt a dog, you could ask, 'who are you?' And if they say 'I'm Casey Anthony,' or perhaps more tellingly 'I'm not Casey Anthony,' you could say, 'We're out of dogs.'"
November 2012 — A local Orlando TV station reported that police missed a major piece of evidence in the case against Anthony. They only looked at her Internet Explorer browser history, and not her Firefox browser history. The channel reported that Anthony had searched the term "fool-proof suffocation," at 2:51 p.m., June 16, 2008.
May 25, 2016 — A private investigator hired by Baez said the attorney admitted that Anthony killed her daughter. The private investigator also claimed Anthony had sex with Baez in exchange for legal services. Baez denied the claims.
November 2016 — One of Anthony's lawyers was arrested for conspiring to traffic 3,300 pounds of cocaine into the U.S.
Feb. 4, 2017 — Anthony was spotted protesting against President Donald Trump in a crowd of 3,000 outside of Mar-a-Lago in Florida.
March 1, 2017 — Judge Belvin Perry Jr., who presided over the case, said he thought Anthony killed her daughter by accident.
"There was a possibility that she may have utilized (chloroform) keep the baby quiet ... and just used too much of it, and the baby died," Perry said.
FOR FREE to continue reading
✔️ Unlock the full content of International Business Times UK for free
offer available for a limited time only
✔️ Easily manage your Newsletters subscriptions and save your favourite articles
✔️ No payment method required
Already have an account?
Log in
© Copyright IBTimes 2023. All rights reserved.