Where Was AirAsia Flight QZ8501 Found? Map And History Of The Karimata Strait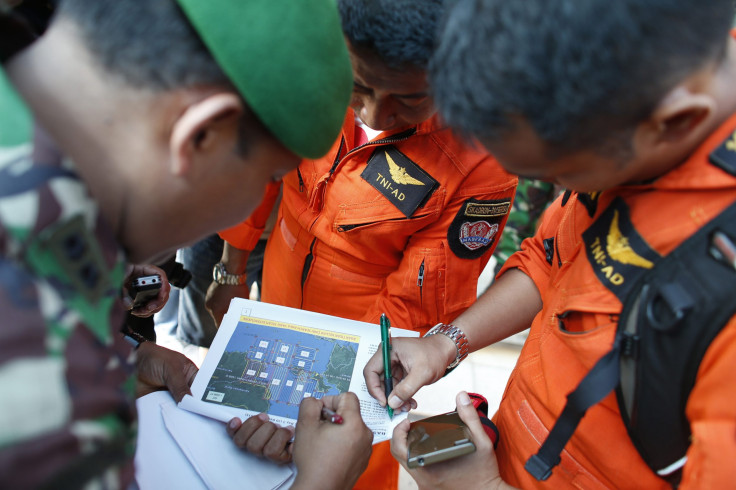 Debris from AirAsia Indonesia Flight 8501, which had been missing for two days after the plane lost contact with air traffic control about two hours into its journey from Indonesia to Singapore, was found Tuesday in the Karimata Strait, the airline said. The strait separates the Indonesian island of Belitung from the west coast of the island of Borneo -- the portion that is Indonesian territory -- and the South China Sea from the Java Sea. The Karimata Islands, also Indonesian territory, is located in the strait. Below is a map of where AirAsia Flight 8501 was found:
"The debris of the aircraft was found in the Karimata Strait around 110 nautical miles south west from Pangkalan Bun" in Borneo, AirAsia Indonesia said in a statement confirming that debris found Tuesday was from Flight 8501. The flight took off Sunday from Surabaya, Indonesia, and was en route to Singapore when it lost contact with air traffic control. The pilot was battling bad weather and requested permission to climb to a higher altitude to avoid it when communication was lost. There were 155 passengers on board, including one infant, and seven crew. All are believed to be dead.
"I am absolutely devastated. This is a very difficult moment for all of us at AirAsia as we await further developments of the search and rescue operations but our first priority now is the wellbeing of the family members of those onboard 8501," AirAsia CEO Tony Fernandes said in a statement.
Cruise ships are among the boats that sail through the Karimata Strait, including mid-sized vessels from Oceania Cruises, a Miami-based shipping company. Among Oceania Cruises' itineraries is an "Around the World In 180 Days 2016" package that goes from Miami through the Caribbean, Africa, Southeast Asia, Hong Kong, China, the South Pacific and Australia, California and Mexico before passing through the Panama Canal and returning to Miami.
The Karimata Strait was also patrolled by Dutch submarines during World War II, according to the book "World War II Sea War, Vol. 5: Air Raid Pearl Harbor. This Is Not A Drill," by Donald A. Bertke, Gordon Smith and Don Kindell. Japan invaded Indonesia, then known as the Dutch East Indies, during World War II, before declaring war on the Netherlands.
© Copyright IBTimes 2023. All rights reserved.