Which Couple Had The Most Romantic Royal Wedding?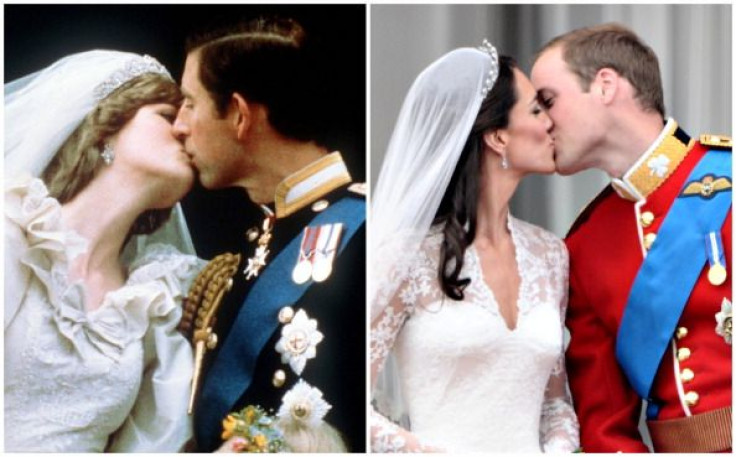 Prince Charles and Princess Diana's nuptials remain the most romantic royal wedding, according to one expert.
Royal fans were impressed with Prince William and Kate Middleton's royal wedding in 2011. Many also fell in love when Prince Harry and Meghan Markle exchanged "I do's" back in May. However, those events don't compare to Prince Charles and Princess Diana's big day.
Princess Diana and the Prince of Wales' nuptials is "by far the most romantic" in generations, according to Judi James.
"We look at this marriage in retrospect and we get a very clear view of the disaster it always threatened to become," James told Express. "But in the context of the time the wedding happened it was by far the most romantic event of that and the following generations of royals."
"Two factors created that sense of romance and neither would apply to any modern royal marriage: firstly there was the belief that their marriage would have to be for keeps," the expert continued.
According to James, many were initially convinced that Prince Charles and Princess Diana would never divorced. The royal fans were banking on Queen Elizabeth II and Prince Philips' marriage and how they grow old together. So, the public assumed that the Prince and late Princess of Wales would never split.
The second factor is the "perfect romantic storyline." According to James, the next-in-line to the throne was rather crusty older bachelor with power and wealth while Princess Diana was the innocent and naive young girl who won his heart.
"Every face-softening expression or tender hand-strokes from Charles were cooed over as a sign that he'd succumbed to love," James added. "And of course Diana transformed in front of our eyes from gauche, shy kindergarden assistant to a beautiful princess, just like every princess in every fairy tale."
Unfortunately, the public was wrong. Prince Charles and Princess Diana's marriage ended up in divorce. A number of things happened when they tied the knot including Prince Charles inviting his ex Camilla Parker Bowles and Princess Diana almost ruining her wedding dress.
In addition, according to body language expert Dr. Peter Collett, the future king showed distress signals on his big day with Princess Diana. In fact, there were several signs that he was unhappy with his choice.
"At a crucial point he wipes away his imaginary tears. This is an action that people often perform when they are feeling sad," Dr. Collett explained. "It suggests that Charles is having deep regrets about what he has got himself into."
© Copyright IBTimes 2023. All rights reserved.