Whitney Houston Dead: Ray-J Reportedly Found Body in Beverly Hilton Hotel before Clive Davis' Party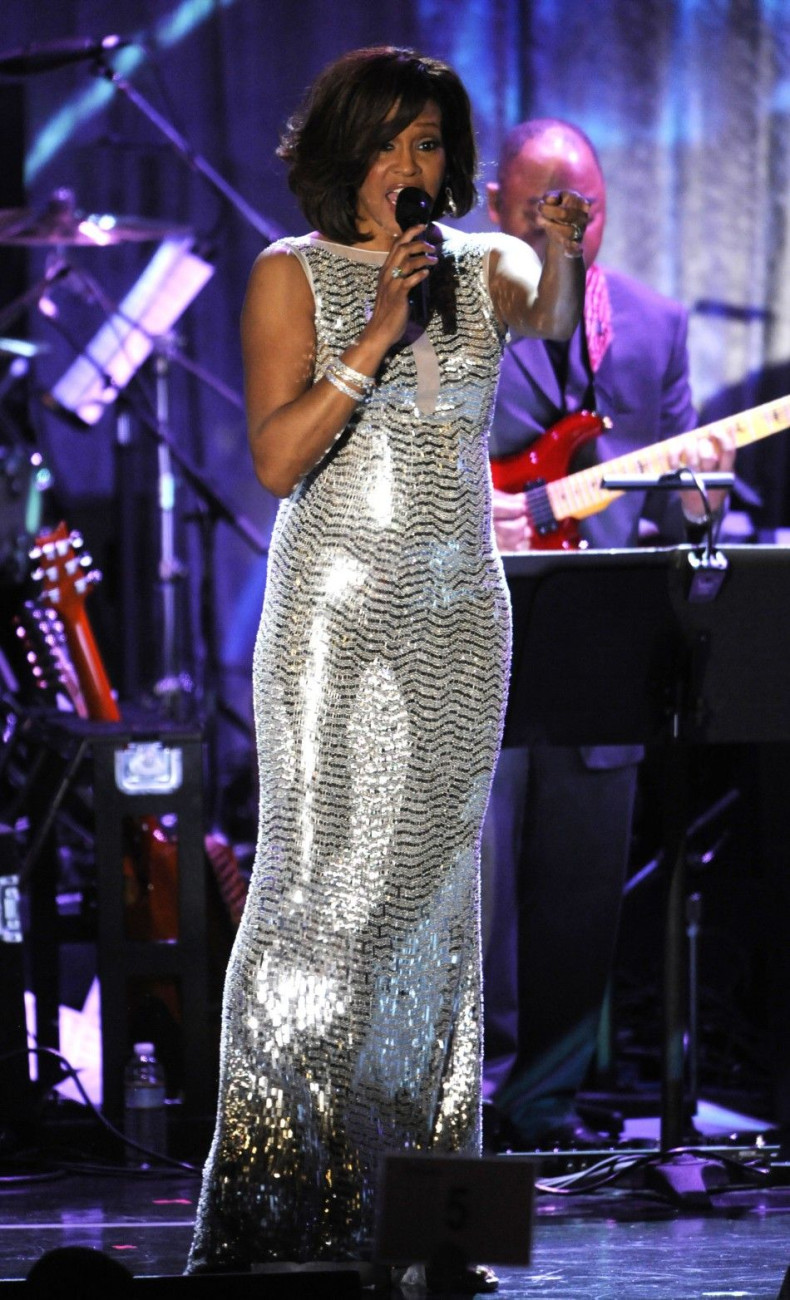 Whitney Houston was pronounced dead on Saturday at just 48-years-old. Her publicist, Kristen Foster, confirmed to media outlets that the singer died Saturday afternoon. Her body was found at the Beverly Hilton Hotel in Beverly Hills, Calif.
I can confirm that Whitney Houston was pronounced dead at 3:55 p.m. at the Beverly Hilton Hotel. We received a call at 3:43 p.m. from hotel security and Beverly Hills Fire and police responded minutes later, Beverly Hills Police Lieutenant Mark Rosen told People magazine. It's unclear who notified hotel staff because she has quite an entourage here at the hotel. We attempted to resuscitate her, to no avail.
As for the cause of death, Rosen said, We don't know yet, her death is under investigation.
Singer Ray-J reportedly found Whitney Houston dead at the hotel, according to SingersRoom.com. CNN confirms that Ray J found Whitney dead Saturday at the Beverly Hilton Hotel, tweeted Justin Lear, though the post has since been deleted.
This story was later shot down by Ray-J's publicist, who said the he was nowhere near the scene. He is, however, distraught over the death. CNN later confirmed that Houston's bodyguard was the one who found her.
Houston and Ray-J were a romantic item, dating from 2007 to 2009, and had recently been photographed together. They were seen dining at West Hollywood eatery Le Petit Four just last Saturday, according to BET.
Houston was most recently seen on Thursday, looking disheveled and disoriented in front of a Hollywood nightclub, reported ABC News. The Hollywood Reported claimed that the singer got into an altercation with X Factor finalist Stacy Francis. Houston was reportedly acting belligerent.
Whitney Houston was set to attend Clive Davis' annual pre-Grammy bash on Saturday at the Beverly Hilton Hotel. It is one of the top events of awards season and Houston was expected to make an appearance.
It's a great time where everybody can set down their swords, so to speak, Davis told the L.A. Times. I was grateful that, inviting them to my home, that they would feel comfortable and just keep coming back, and they've kept coming back every year to where it's expanded to be this incredible haven for musicians.
Davis played a huge part in fostering Houston's success while working as a lawyer at Columbia Records. Houston was expected to party with the likes of Quincy Jones, Tony Bennett, Akon, Cee Lo Green, Miley Cyrus, Sean Puffy Combs, Jennifer Hudson, Jackson Browne, Elvis Costello and Diana Krall at the Grammy fete.
Whitney Houston, at just 48-years-old, had a dazzling music career and was one of the most beloved pop singers of all time. According to her Web site, Houston sold more than 170 million albums, singles and videos throughout the breadth of her career. Her first break-out hits came in the 1980s, with seven straight Billboard No. 1 tracks including Saving All My Love for You, How Will I Know and Where Do Broken Hearts Go.
She just completed filming a role in Sparkle, a film loosely based on The Supremes due in theaters on Aug. 10 alongside Jordin Sparks.
Russell Simmons shared his condolences, saying he was deeply saddened by the death of Whitney Houston. Singer Gloria Estefan said she was shocked we've lost the immensely talented entertainer. Quincy Jones, said he was absolutely heartbroken by the news. She was a true original and a talent beyond compare.
In May 2011, Houston received help for her struggle with drugs and alcohol, her representative confirmed at the time according to CNN.
Whitney Houston was married to Bobby Brown, whom she divorced in 2007. She leaves behind a daughter, Bobbi Kristina, 19.
Must Read: Whitney Houston Dead: Twitter and Facebook Community in Shock