Who Is Aaron Rodgers' Girlfriend, Olivia Munn? Green Bay Packers Star Relationship With Actress Explained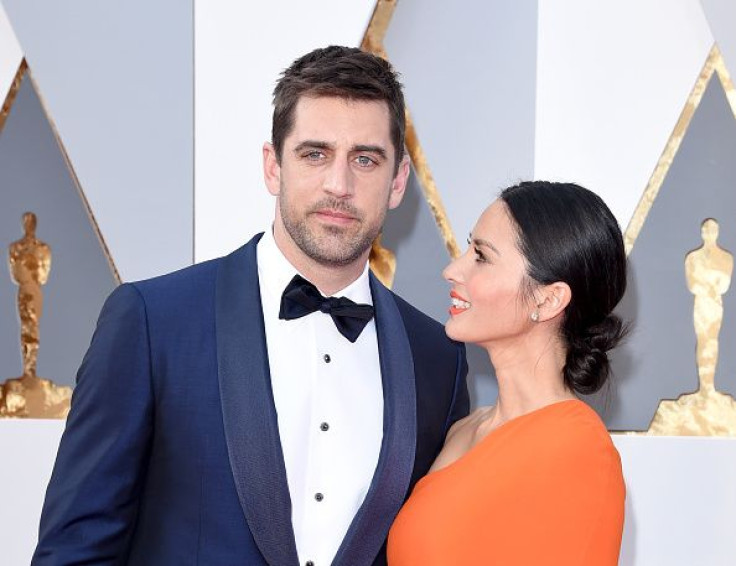 While some people who follow the Green Bay Packers might not be familiar with quarterback Aaron Rodgers' girlfriend, Olivia Munn, is an established actress. The Hollywood star took to social media to congratulate her boyfriend after the Packers beat the Dallas Cowboys Sunday in the NFL Divisional Round at AT&T Stadium in Arlington, Texas.
Munn, 36, used green and yellow hearts—Packer colors—to express her excitement. She also used a gif of Will Smith from when he was on "The Fresh Prince of Bel Air" to express her "current mood." The post was liked more than 7,300 times and shared more than 1,000 times by her 816,000 followers.
She wrote a similar message when the Packers won the NFC North championship Jan. 2. "Table has been run. CONGRATS," she wrote.
The star also praised her boyfriend on Instagram by sharing a picture of Rodgers, 33, that the Packers originally posted two weeks ago. "Leader of the Pack," it read.
Munn rarely posts pictures of her boyfriend to social media, but the Packers stellar performance in the 2017 playoff season has led her to break usual protocol. The couple has dated since 2014, but not without some controversy.
Rodgers' father, Ed, claimed he stopped talking to his son shortly after he started to date Munn during a Sunday interview with the New York Times. "Fame can change things," Ed Rodgers told the Times. "It's complicated... we're all hoping for the best." He added: "Airing public laundry is not what I would have chosen, but it's good to have it all come out."
Aaron Rodgers has not responded to the apparent family drama.
Munn is known for her roles in "The Newsroom," "X-Men: Apocalypse," "Office Christmas Party" and "Magic Mike."
The Green Bay Packers will take on the Atlanta Falcons at the NFL Conference Championships at Georgia Dome in Atlanta Sunday at 3:05 p.m. EST on Fox.
Follow me on Twitter @mariamzzarella
© Copyright IBTimes 2023. All rights reserved.