Who Is Aaron Thompson? Utah Deputy Rescued 8-Year-Old From Frozen Pond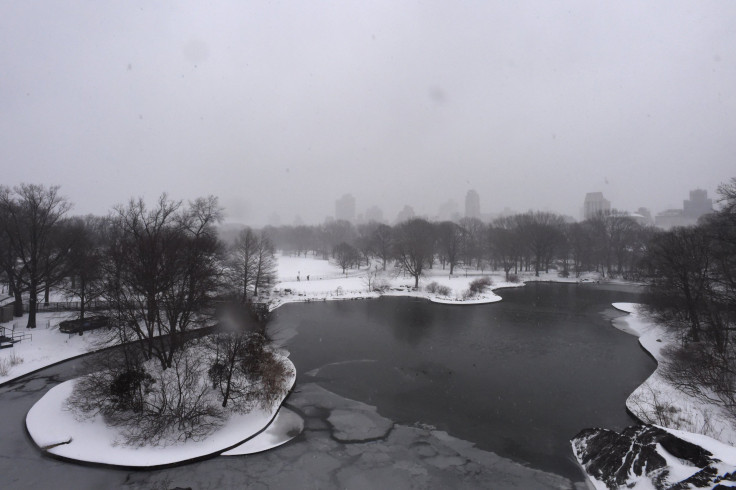 A Utah sheriff's deputy on Christmas Day rescued an 8-year-old boy who fell through a frozen pond while chasing his dog, authorities said.
The officer, Sgt. Aaron Thompson of the Washington County Sheriff's Office, responded first to the scene and "made the personal decision" to attempt to save the boy without using any equipment, according to a press release obtained by KSTU, a Fox affiliate in Salt Lake City.
Police said a group of children were playing near a pond in New Harmony, a city roughly 150 miles northeast of Las Vegas, when the boy's dog reportedly ran off. The boy followed the animal out onto the pond when the ice cracked and he fell in, reported CBS affiliate KUTV.
The others present at the scene tried to get him out on their own but were unable to do so and the police were called to the scene. The boy was flown to Dixie Regional Medical Center in St. George, Utah, after emergency services arrived on the scene. He was reportedly unconscious as they left but had vitals and officials said they were hopeful he would recover.
Thompson, who is a rescue diver and previously a member of the sheriff's dive team, was said to have suffered only cuts, bruises and some symptoms of hypothermia, but was back to work Tuesday.
Thompson forced and punched out a path through 25 feet of ice to the place where the boy was stuck, finally freeing him and bringing back on land, Lt. David Crouse told KUTV.
"He and another citizen were actually able to break through the ice, go into the water, and retrieve the boy out of the pond," Crouse said. "He was taken to a nearby ambulance."
"You never know exactly what you're going to get into," Thompson, who is a rescue diver by training and also a former member of the sheriff's dive team, told reporters Tuesday. "I just made the decision that I was going to go get him."
He added that he walked out on the ice a few feet and started to pound on it with his hands, but "the ice got thicker, and I couldn't break it with my arms and my fists."
"So I started to jump up and down on it using my body weight," and it eventually gave way, he explained. He then dived to the bottom in order to rescue the child.
Thompson said he believed the boy had been in the water for about 30 minutes, adding "as a water rescuer, we're trained to know we have a 'golden hour.'"
"I couldn't feel anything. I didn't notice anything when I was doing it," Thompson said. "I knew that time was of the essence. I had a very short window to get that child out of the water."
The boy's dog reportedly was unharmed in the incident.
Thompson said he does not want to be hailed hero adding "it's not me. It's us," praising the involvement of medical crews, the helicopter crew, and everyone else present at the scene, NBC News reported.
"That's the real story here," he said. "I was just the one that went out into the water."
But Sheriff Cory Pulsipher praised Thompson to a local newspaper. "He hates having the spotlight on him, but he's a hero," Pulsipher said.
© Copyright IBTimes 2023. All rights reserved.