Who Is Al Baldasaro? Trump Adviser Says Hillary Clinton Should Be 'Shot For Treason'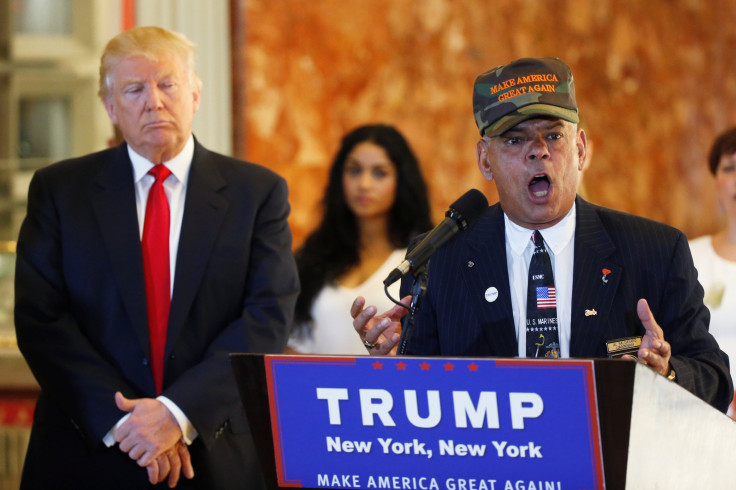 At the Republican National Convention in Cleveland Tuesday, scores of Republicans chanted "Lock her up," a reference to presumptive Democratic presidential nominee Hillary Clinton and the controversy surrounding her use of a private email server as Secretary of State. On Wednesday, one Trump adviser took things one step further.
Al Baldasaro, a New Hampshire state representative who is one of Donald Trump's key advisers on veterans' issues, said Clinton should be "put in the firing line and shot for treason" for her handling of the Benghazi terror attack. Baldasaro's comments came during a radio interview with WRKO radio in Boston.
"She is a disgrace," Baldasaro continued. "For the lies that she told those mothers about their children that got killed over there in Benghazi. She dropped the ball on over 400 emails requesting back-up security. Something's wrong there."
Baldasaro, a state representative who flirted with a senate run in 2014, gained notoriety as one of Trump's biggest defenders when the media grilled the candidate in May over the disbursement of money collected during a fundraiser for veterans he had held during a Fox News Republican debate. Trump skipped that debate in protest of what he claimed was unfair treatment by the network.
"I would never, ever in a million years put my name on a candidate who did not from his heart, look me in the eye and tell me he is concerned about veterans. That is Donald Trump," Baldasaro said in May, standing beside Trump in a press conference. "I met him over a year ago. I've been involved with many fundraisers — there are many scam artists out there. He did the right thing by vetting those groups. You look at some of these groups giving 20 cents, 40 cents on the dollar, spending the rest for nice lavish trips. He gave 100 percent."
In a later interview Wednesday, Baldasaro was asked if he stood by his controversial comments about Clinton. He responded that he did "without a doubt."
© Copyright IBTimes 2023. All rights reserved.
FOLLOW MORE IBT NEWS ON THE BELOW CHANNELS