Who Is Allison Mack? 'Smallville' Actress Pleads Guilty To NXIVM Racketeering Charges
Almost a year after being arrested in connection to NXIVM, a sex cult-like organization based in Upstate New York, actress Allison Mack pleaded guilty to racketeering charges on Monday.
Mack admitted to telling women that NXIVM, headed up by Keith Raniere, was a self-help group for female mentorship in order to recruit them into the organization to get branded and become sex slaves for the leader.
The "Smallville" actress said she blackmailed, at Raniere's request, two unidentified women into performing "so-called acts of love."
"I believed Keith Raniere's intentions were to help people, and I was wrong," Mack told a judge in a Brooklyn federal court, according to The Hollywood Reporter. She also apologized to the women the group allegedly took advantage of.
"I know I can and will be a better person," she said.
While Mack pleaded guilty, others arrested in the NXIVM case — Raniere, Clare Bronfman and Kathy Russell —have pleaded not guilty to their respective charges.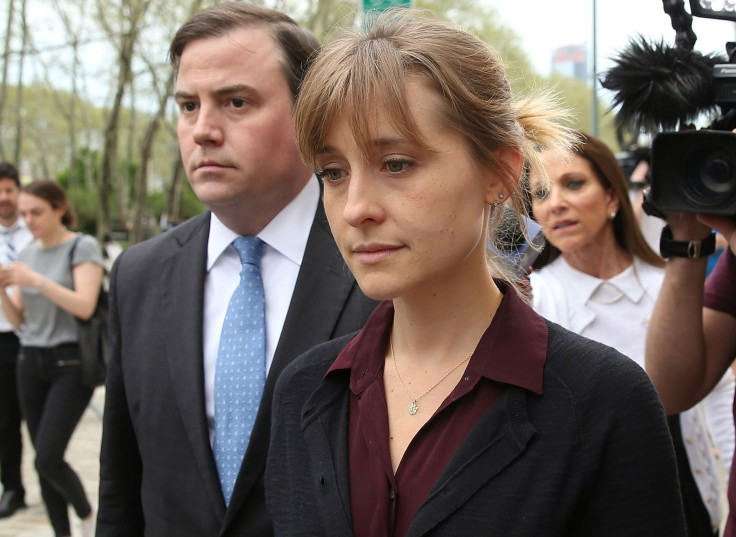 The 36-year-old actress, who was born in West Germany, did some commercials when she was younger and started taking acting classes in Los Angeles when she was seven years old.
Mack's first film role was for 1989's "Police Academy 6: City Under Siege" where she played a little girl. After a few TV movies and small TV show roles in the early 1990s, she landed the role of Brooke Diller on ABC's short-lived 1997 sitcom, "Hiller and Diller."
The role she's best known for playing, Clark Kent's (Tom Welling) best friend, Chloe Sullivan, on The WB/CW's long-running drama, "Smallville," arrived in 2001. Mack also had roles on "Wilfred" and "American Odyssey" following the superhero drama's end in 2011. She also had a guest-starring role in a 2015 episode of Fox's "The Following," which centered on a serial killer and his cult of followers.
She hasn't acted since 2015.
According to People, Mack got married to her wife, "Battlestar Galactica" actress Nicki Clyne, who was also reportedly a member of NXIVM, in 2017.
© Copyright IBTimes 2023. All rights reserved.
FOLLOW MORE IBT NEWS ON THE BELOW CHANNELS