Who Is Amanda Falkowski? Parkland, Florida Teacher Calls For Gun Law Changes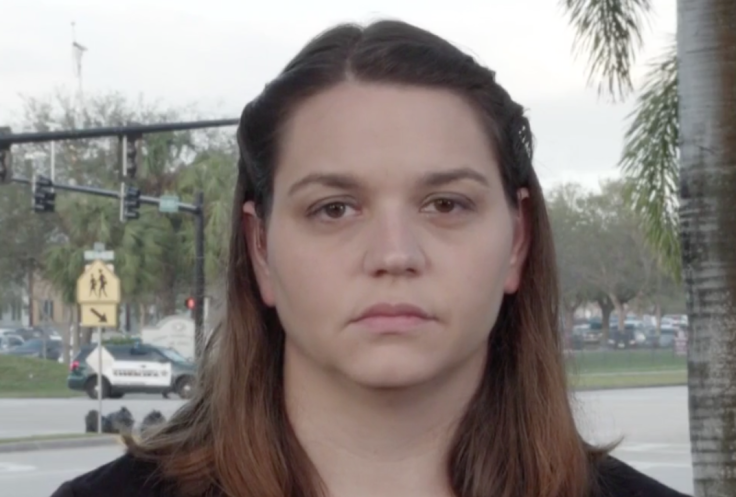 A teacher that was forced to hide beside her students in a cramped closet during the Wednesday shooting in Parkland, Florida, called for change Thursday in the current gun safety laws.
Amanda Falkowski works as a journalism teacher at Marjory Stoneman Douglas High School. Falkowski was in the midst of putting together the school's newspaper with students Wednesday when the fire alarm went off, she told TODAY. In an attempt to exit the building, she was instructed by a security guard onsite to return inside due to a "code red" over the now in-custody active shooter, Nikolas de Jesus Cruz.
Falkowski, during a Thursday appearance on TODAY, claimed that change needs to be made to prevent more incidents like this from happening.
"I've seen this on TV, we all have, just shooting after shooting, and the same thing is said, 'It's not [the] time to talk about gun control, it's not the time, it's time to pray for the families.' And I just think that hasn't gotten us anywhere,'' Falkowski said on TODAY. "As a society, as Americans, we're failing our children, we're not keeping them safe, and Congress is failing us, and the government is failing us, and something has to be done."
Falkowski detailed her experience during the shooting, which primarily involved her reassuring her 19 students that they will be safe as they hid in a tiny closet. The group hid for roughly 30 minutes.
"The kids, some of them were hysterical from moment one, and so it was just trying to keep them calm and telling them that they're going to be OK and everything's going to be OK,'' Falkowski said. "Just knowing that it doesn't really matter what I'm feeling in that moment, but they need to be calm and feel like they're going to be OK."
"That's my job. I just did my job," she added.
Cruz, 19, was identified Wednesday as the suspected shooter at Marjory Stoneman Douglas. The man, who reportedly used an AR-15 style semiautomatic rifle in the shooting incident, was arrested an hour after the attack nearby Coral Springs. The attack resulted in the killings of at least 17 people, which he allegedly threatened 9 months ago on YouTube, TMZ reported.
Cruz was a former student at Marjory Stoneman Douglas, but he was expelled for disciplinary reasons. Police suspect that he acted alone.
"Just spoke with @POTUS about shooting at Marjory Stoneman Douglas High School," Florida governor Rick Scott said on Twitter. "My thoughts and prayers are with the students, their families and the entire community. We will continue to receive briefings from law enforcement and issue updates."
© Copyright IBTimes 2023. All rights reserved.