Who Is Ambra Battilana Gutierrez? Model Instagrams Cryptic Post Amid Weinstein Allegations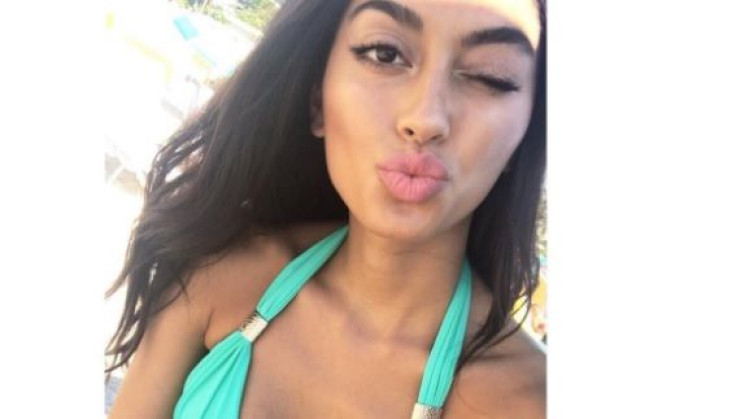 After the New York Times accused Hollywood mogul Harvey Weinstein of sexually abusing women in the entertainment industry Thursday in a bombshell report, model Ambra Battilana Gutierrez took to Instagram to share an inspiring post. The raven-haired beauty caught Weinstein admitting he was "used to" groping women in Hollywood, according to audio obtained by The New Yorker Tuesday.
Gutierrez didn't directly address the controversy online, but shared an uplifting quote about life Monday. "Look at me standing/ Here on my own again/ Up straight in the sunshine/ No need to run and hide/ It's a wonderful, wonderful life/ No need to laugh and cry/ It's a wonderful wonderful life," she wrote.
She simply captioned the picture of the quote, "Thankful." The post was like hundreds of times by her 88,500 followers.
The following day, she shared a picture of herself in a green bikini. "Good Morning to all the good people out there #goodpeople #weallconnected #love #AmbraBGutierrez," she captioned the photo of herself.
Some people in the comment section discovered Gutierrez from the New Yorker article. "I just started following you. You are a strong woman. He is a horrible man. Good luck in your future!" one person wrote. "Brave and beautiful u - I read the NYer article - thank u for ur courage," another wrote.
Gutierrez caught Weinstein admitting to touching women inappropriately during a sting with the New York Police Department.
During the recording, Gutierrez tries to leave but Weinstein does not want her to go. He tells her to go to the bathroom and she says, "I don't want to do something I don't want to."
"I'm not going to do anything and you'll never see me again after this," Weinstein says in the clip. "If you embarrass me in this hotel… honey please don't have a fight with me. I swear I'm not going to do anything. I swear on my children. I swear on everything. I'm a famous guy."
Weinstein, in conversation with Gutierrez, admits to groping her. Here's the audio: https://t.co/zSQbK5NV0c pic.twitter.com/vmrrSUp43w

— The New Yorker (@NewYorker) October 10, 2017
When Gutierrez explains she feels uncomfortable because Weinstein touched her breast, he says, "I'm used to that. Come on."
Gutierrez continues to say that she does not want to stay with Weinstein — that "yesterday was too much."
"I will never do another thing to you," he says.
Before he was fired Sunday, Weinstein allegedly sent a letter to Hollywood executives where he pleaded with them to save his job. The leaked letter was posted below, courtesy of Deadline:
"My board is thinking of firing me. All I'm asking is let me take a leave of absence and get into heavy therapy and counseling whether it be in a facility or somewhere else. Allow me to resurrect myself with a second chance. A lot of the allegations are false, as you know, but given therapy and counseling as other people have done, I think I'd be able to get there. If you can, I need you to send a letter to my private Gmail. The letter would only go to the board and no one else. What the board is trying to do is not only wrong but might be illegal and would destroy the company. If you could write this letter backing me getting me the help and time away I need and also stating your opposition to the board firing me, It would help me a lot. I am desperate for your help. Just give me the time to get therapy. Do not let me get fired. If the industry supports me, that is all I need. With all due respect, I need the letter today."
Follow me on Twitter @mariamzzarella
© Copyright IBTimes 2023. All rights reserved.