Who Are Marvin Norwood And Louie Sanchez? Giants Fan Attackers Sentenced To Prison For Beating Bryan Stow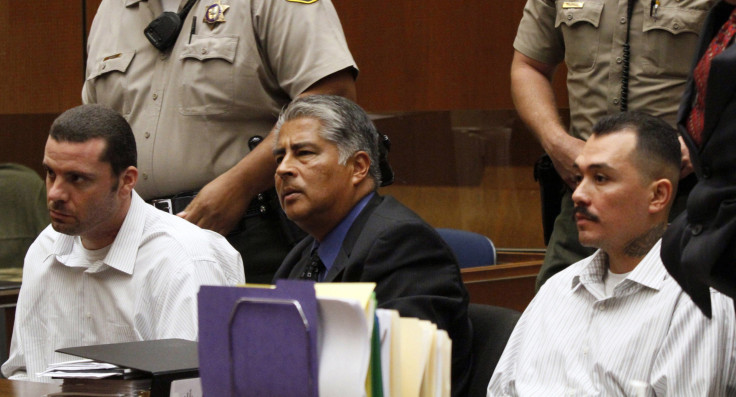 Two men were sentenced to prison on Feb. 20 by a California judge for the gruesome beating of a San Francisco Giants fan at an opening-day Los Angeles Dodgers baseball game in 2011.
Marvin Norwood, 33, and Louie Sanchez, 31, both entered guilty pleas for the attack, with Superior Court Judge George Lomeli describing them as "the biggest nightmare'' of fans attending sporting events. Norwood received a sentence of four years in prison while Sanchez was given a sentence of eight years in prison, CNN reports.
The pair severely beat 45-year-old Bryan Stow in the Dodger Stadium parking lot following the March 31, 2011, opening-day game against the Giants. Stow was attacked from behind during the altercation that left him brain damaged and permanently disabled. According to prosecutors, Sanchez beat Stow unconscious during the attack that was unprovoked, reports USA Today.
Members of Stowe's family spoke before the sentencing, detailing the drastic changes in the life of the father and paramedic since the beating.
"We shower him, we dress him, we fix his meals," said Bonnie Stow, Bryan's sister. "We make sure he gets his 13 medications throughout the day. He takes two different anti-seizure medications to prevent the seizures he endured for months." Bryan's father David Stow also spoke, telling the attackers "prison is what you cretins deserve."
Norwood and Sanchez will receive credit for time they have already served in jail, with Norwood possibly being eligible for immediate release. However, the pair are also facing federal weapons charges, reports USA Today.
Sanchez pleaded guilty to one count of mayhem. Norwood was sentenced after pleading guilty to assault. The two were apprehended after a large manhunt following the incident in 2011. Jailhouse footage of the pair's secretly recorded discussions of the attack played a key role in their conviction.
© Copyright IBTimes 2023. All rights reserved.