Who Is Carnell Snell Jr? Police Shooting Of 18-Year-Old After Car Chase In South Los Angeles Sparks Protest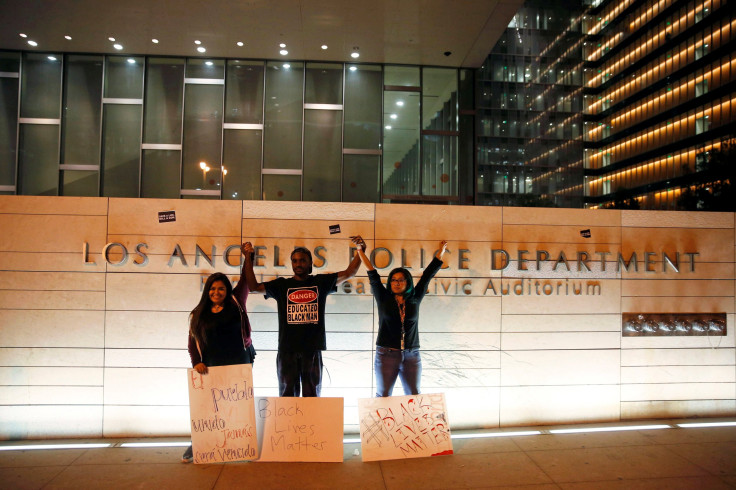 Police fatally shot an 18-year-old man in south Los Angeles after a car chase Saturday. The death of Carnell Snell Jr., sparked protests amid growing concerns over the excessive use of force by police on African-Americans.
LAPD officers tried to pull over a car, which had paper number plates, believing the vehicle may have been stolen, Sgt. Barry Montgomery told reporters, adding that a pursuit began after the driver refused to step out of the vehicle. Police said that a passenger came out of the vehicle and began to run. They chased the man toward the back of a house and shot him, Montgomery said. The driver reportedly fled the scene and is on the run.
Montgomery said that a weapon was recovered at the scene, but it was unclear if it was related to the shooting and who owned it.
The shooting brought angry protesters on to the streets, with a small group blocking an intersection near the shooting scene Saturday night. Some protesters waved "Black Lives Matter" signs and others shouted at officers at the scene.
The scene of the shooting was the same as where Snell Jr. lived on 107th Street, his family reportedly said. The victim's sister Trenell Snell, 17, said that she was outside the house when she heard gunfire and saw her brother on the ground.
"At the end of the day, the cops came and shot my brother," she said, according to the Associated Press. "Killed my brother."
The latest shooting of a black man comes as protests continue in the San Diego suburb of El Cajon over the fatal shooting of an unarmed black man. Two peaceful protests were also conducted Friday in Pasadena, California, after the fatal shooting of a black man armed with a knife.
© Copyright IBTimes 2023. All rights reserved.