Who Is In Donald Trump's Cabinet: Mitt Romney, David Petraeus Meet With President-Elect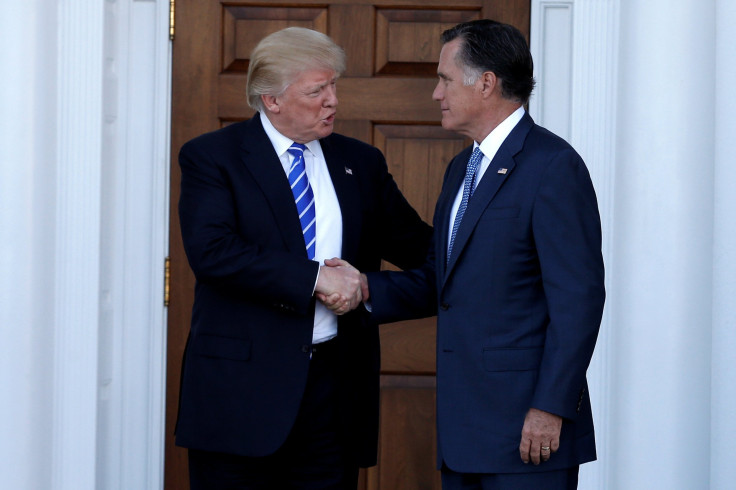 President-elect Donald Trump reportedly planned to dine with former Massachusetts Gov. Mitt Romney amid an apparent split in his inner circle over who should be secretary of state.
Politico reported Trump planned a dinner meeting Tuesday night with Romney, the 2012 Republican presidential candidate who was a harsh critic of Trump's during the campaign, calling him a "conman" and "fraud" in a March speech.
The two met earlier this month at Trump's Bedminster, New Jersey, golf club.
Trump is said to be considering nominating Romney to be secretary of state, a move supported by his more moderate advisers, including Vice President-elect Mike Pence and chief of staff Reince Priebus.
Spokeswoman Kellyanne Conway and former House Speaker Newt Gingrich, however, were highly critical of Romney on the Sunday morning talk shows, with Conway saying there's a "breathtaking" level of opposition to Romney among Trump's supporters.
MSNBC reportedTrump was furious about her remarks.
In addition to Romney, former New York Mayor Rudy Giuliani and Senate Foreign Relations Committee Chairman Bob Corker, R-Tenn., are believed in the running for the job.
Trump met Monday with former CIA director David Petraeus and later tweeted he was very impressed with the retired general, who was ousted from the CIA for giving the biographer with whom he had an affair classified documents.
Petraeus told the BBC during the weekend he would be most interested in serving as defense secretary if a Cabinet post were offered. He also reportedly is under consideration as secretary of state.
Trump is expected to announce as soon as Tuesday the appointment of Rep. Tom Price, R-Ga., as secretary of health and human services, the Atlanta Journal-Constitution reported.
Trump has been working to fill out his administration since the election. Here's how his appointments and nominations stand so far:
Chief of staff: Republican Chairman Reince Priebus
Chief strategist: Breitbart News head Stephen Bannon
Education: billionaire philanthropist Betsy Devos
U.N. ambassador: South Carolina Gov. Nikki Haley
Attorney general: Sen. Jeff Sessions, R-Ala.
CIA director: Rep. Mike Pompeo, R-Kan.
National security adviser: retired Army Lt. Gen. Michael Flynn
Deputy national security adviser: K.T. McFarland, a former Reagan White House official
White House counsel: Donald McGahn
© Copyright IBTimes 2023. All rights reserved.