Who Is Dr. Brenda Fitzgerald? Meet The New Director Of The CDC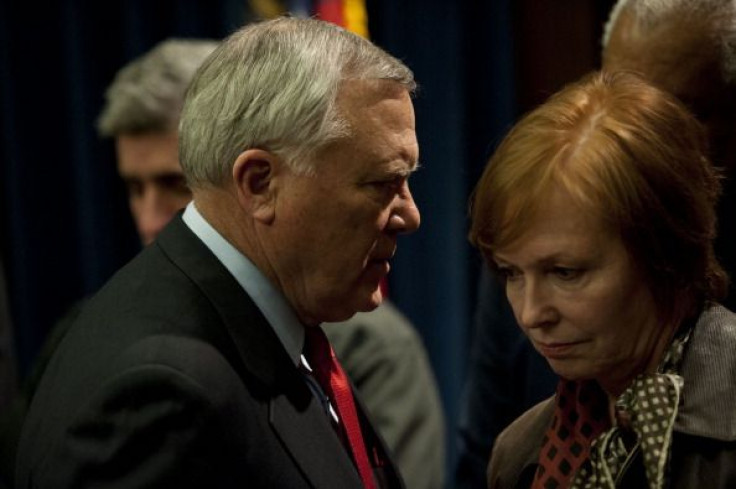 President Donald Trump's administration named Georgia Public Health Commissioner Brenda Fitzgerald as the next director of the Centers for Disease Control and Prevention (CDC) Friday.
Fitzgerald, 70, is trained as an obstetrician-gynecologist. She served as Georgia Public Health Commissioner since 2011. Before Republican Governor Nathan Deal chose her to serve as public health commissioner of Georgia, she was in private practice for 30 years. She previously served as a health care policy advisor for Republicans House Speaker Newt Gingrich and U.S. Senator Paul Coverdell.
Read: White House Left With Zero Employees For Its Science Division After Staffers Leave
Fitzgerald ran for Congress as a Republican in 1992 and 1994, but she was unsuccessful both times. She obtained a Bachelor of Science degree in Microbiology from Georgia State University and a Doctor of Medicine degree from Emory University School of Medicine. As an Air Force manager, she served at Wurtsmith Air Force Strategic Air Command in Michigan and Andrews Air Force Base in Washington.
"Having known Dr. Fitzgerald for many years, I know that she has a deep appreciation and understanding of medicine, public health, policy and leadership — all qualities that will prove vital as she leads the CDC in its work to protect America's health 24/7," Health and Human Services Secretary Dr. Tom Price, said in a statement.
The CDC is a $7 billion agency charged with fighting disease outbreaks in the United States and around the world. President Trump and Congress have both proposed cutting the CDC's budget. The House and the Senate have both been drafting health care reform bills that suggest cutting the CDC's Prevention and Public Health Fund.
As head of the agency, Fitzgerald is tasked with balancing politics with scientific belief. She has been an advocate for childhood language development, an outspoken supporter of vaccinations and a prominent figure in preventing the Zika virus in Georgia.
In a TED Talk Atlanta event, Fitzgerald spoke about how words can help improve early childhood development. She wrote "Babies need their vaccines," an op-ed which appeared in the Atlanta Journal-Constitution in April 2014.
"I am a mother. I am vaccinated. And I ask you to join me. Choose to vaccinate first yourself, and then your new baby. Follow the vaccine schedule, and guard against diseases like whooping cough that only you can prevent before baby is born," she wrote. "Get vaccinated. Help spread the truth on vaccines, not the diseases they prevent."
Fitzgerald's support of vaccinations is contrasted with President Trump's anti-vaccination comments.
Read: Ethics Chief Resigns After Clashes With Trump Administration, Second High-Level Ethics Departure
In September 2016, Fitzgerald wrote a letter to the University System of Georgia Campus Community regarding the Zika virus. In it, she provided information about the virus as well as a list of tips to prevent the contraction and spread of Zika.
Fitzgerald is set to replace Dr. Thomas Frieden, who left his post at the CDC in January 2017.
"I wish Dr. Fitzgerald well," he said to NBC News. "Her experience as state health commissioner is important to understanding the needs of public health."
© Copyright IBTimes 2023. All rights reserved.