Who Is Emanuela Orlandi? Vatican Case Intensifies As Police Investigate 1983 Disappearence Of Teenager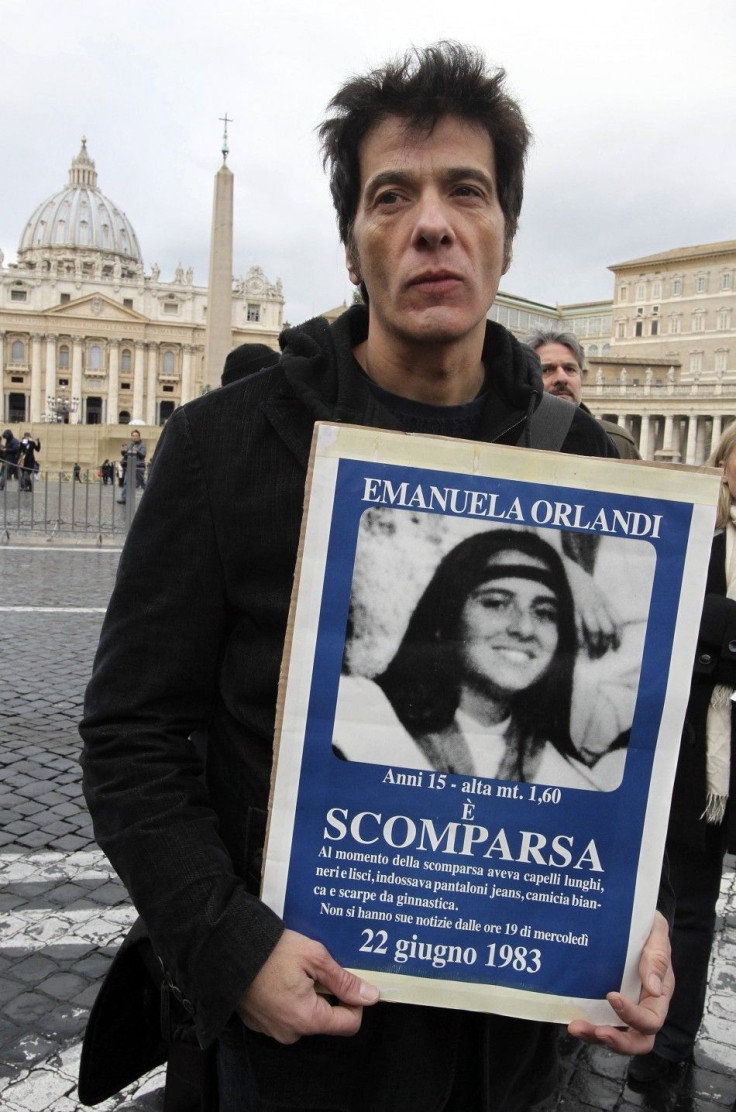 Emanuela Orlandi mysteriously disappeared on June 22, 1983.
Only 15-years-old at the time of her disappearance, Orlandi was the daughter of a Vatican employee and a citizen of the city.
While in her second year at a scientific high school in Rome, Orlandie vanished after leaving her family's Vatican City apartment to go to a music lesson in Rome.
Although she had finished school at the time, Orlandi continued to take flute lessons three times week at the Tommaso Ludovico Da Victoria School.
Reports indicate that on Wednesday, June 22, 1983, Orlandi had been late to class and around 19:00, she explained her lateness in a phone call to her sister, during which she said she had a job offer from a representative of the Avon Cosmetics Company to promote cosmetics on the occasion of a fashion show.
Orlandi's sister advised that she talk it over with her parents before making any decisions, but she reportedly met with the would-be representative shortly before her music lesson anyway.
At the end of the lesson, Orlandi spoke of the job offer with a girlfriend, who then left her at the bus stop, in the company of another girl who has never been identified.
According to reports, a witness supposedly saw her get into a large, dark-colored BMW car. From that moment, Orlandi was never seen again.
The Vatican mystery recently intensified, as forensic police searched the tomb of a Roman basilica on Monday, May 14, to exhume the body of a reputed mobster as part of an investigation.
Samples from the remains of Enrico De Pedis were taken, along with boxes of old bones from the nearby ossuary, according to a De Pedis family lawyer, as part of the investigation into whether Emanuela Orlandi may have been buried alongside him.
A member of Rome's Magliana mob, De Pedis was killed in 1990.
According to the Associated Press, De Pedis's one-time girlfriend reportedly told prosecutors that De Pedis kidnapped Orlandi, and an anonymous caller in 2005 told a call-in television show that the answer to Orlandi's disappearance lay in his tomb.
In the midst of the case being revived, the Vatican said last month it had no objections to opening the tomb, which it eventually did on Monday, May 14.
Vatican spokesman, the Rev. Federico Lombardi said the inspection of the De Pedis tomb was certainly a positive fact aimed at carrying out all possible steps so the investigation could be completed.
The AP report describes the scene outside the Sant'Apollinare basilica as hectic, with television cameras jostling for views inside the chapel and the adjacent courtyard of the Opus Dei-run Pontifical Holy Cross University, where forensic vans came and went.
Reports went on to indicate that an overwhelming stench filled the air as medical personnel in white pantsuits and masks conversed with priests in a blue tent where samples of De Pedis' remains were believed to have been brought.
Lorenzo Radogna, a De Pedis family attorney, told reporters outside that investigators had found some 200 containers with bones near De Pedis' tomb in the ossuary, and that they would be tested in the coming days and weeks, according to AP.
Soon after Orlandi's alleged kidnapping, there had been speculation that it was linked in some way to an assassination attempt on Pope John Paul II, which had occurred two years earlier, and the jailing of the gunman, Ali Agca.
There has also been doubt about whether the Vatican itself had fully cooperated with the investigation.
In 2008, Italian news reports quoted De Pedis' ex-girlfriend as telling prosecutors that Orlandi had been kidnapped by the Magliana gang on the orders of Archbishop Paul Marcinkus, the late U.S. prelate who had headed the Vatican bank and was linked to a huge Italian banking scandal in the 1980s, AP wrote.
Pietro Orlandi said the move to exhume the tomb was a step forward in the investigation, and he hoped it showed a new willingness on the part of the Vatican to cooperate fully and show full transparency about what it knows.
I think it's something very positive, both from the point of view of the Vatican and the prosecutors, he told reporters.
© Copyright IBTimes 2023. All rights reserved.