Who Is Gwen Korovin? Joan Rivers' Alleged 'Selfie' Doctor Reportedly Took Photo Of Star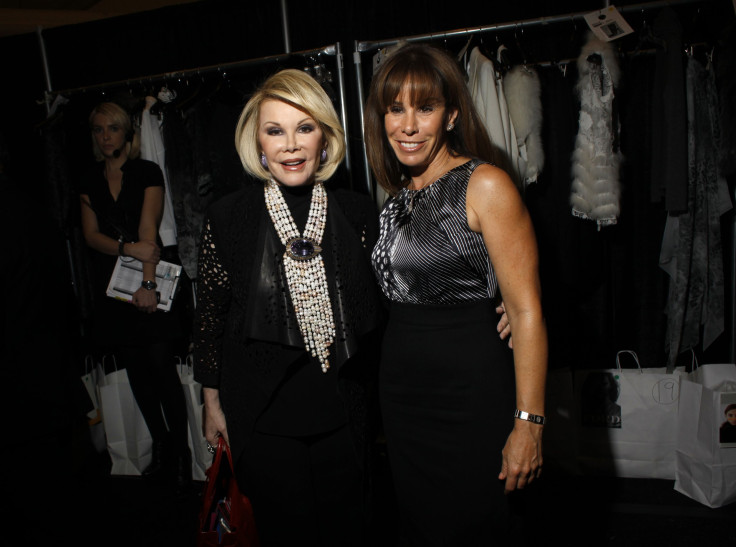 Gwen Korovin allegedly took a selfie while Joan Rivers was at Yokrville Endoscopy for a non-surgical throat procedure, Radar Online wrote. Investigators reportedly want to see the image, which reportedly captured an unconscious Rivers in the background, and talk to her about why she would take the photo.
Medical investigators are now "eager to talk to Dr. Korovin about the events leading up to and after Joan's death," a source told the news site. "They will certainly be asking what the purpose of taking the selfie was for, and they will want to see it."
"Dr. Korovin took the selfie with her personal cell phone," an insider told Radar Online. The iconic comedian, 81, was reportedly under anesthesia at the time of the photo. "Everyone in the operating room was just stunned as they had never witnessed anyone do that before."
Korovin, who has not been officially identified as the doctor who took the picture, was reportedly not authorized to perform the biopsy on the "Fashion Police" star. "Joan never consented to the procedure," the source said. "And Dr. Korovin never should have been in the operating room to begin with — certainly not to perform any procedure on Joan, since she didn't have privileges to do so at the clinic."
Daughter Melissa Rivers reportedly called the doctor a "monster" and couldn't believe she would take a selfie. "Melissa just can't believe a doctor would be so cavalier, especially someone with Dr. Korovin's credentials. Joan was completely vulnerable while under anesthesia, and for her privacy to be violated like that just makes Melissa sick," the source said.
Korovin said through her lawyer that said she would not comment on the allegations. "As a matter of personal and professional policy, Dr. Korovin does not publicly discuss her patients or their care and treatment," part of the statement read, according to Extra. "...Neither Dr. Korovin nor her attorneys will have any public comment on recent press reports regarding her practice."
Follow me on Twitter @mariamzzarella
© Copyright IBTimes 2023. All rights reserved.