Who Is Heather Heyer? Paralegal Identified As Victim Of Charlottesville Violence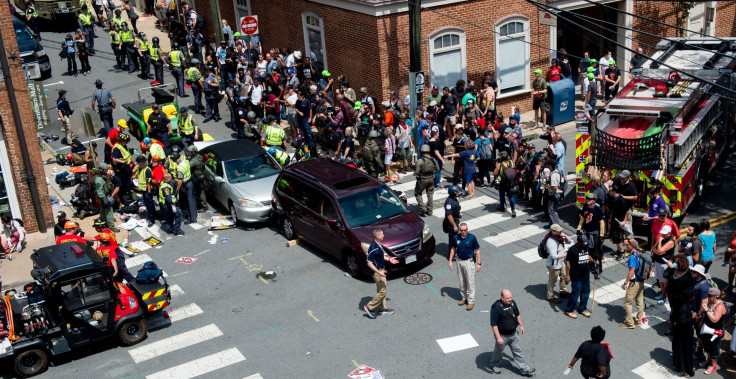 A young paralegal from Greene County, Virginia, was identified as the victim of violence that broke out after hundreds of white nationalists converged Saturday in Charlottesville to participate in the Unite the Right rally held against the city's decision to remove a statue of Confederate Gen. Robert E. Lee from the Emancipation Park.
Heather Heyer, 32, died when a car, with an Ohio license plate, rammed into a crowd near the city's downtown mall after the rally was dispersed, according to reports. Heyers was one of the counterprotesters marching in jubilation near the mall after the white nationalists dispersed from the scene.
Condolences poured in on social media, with many Twitter users saying Heyer died fighting against racism and hate.
One of the posts read: "Rest in Power #HeatherHeyer we will remember and celebrate you and the legacies of other victims of hate as we continue to #resist." While another Twitter user said: "Her name was Heather Heyer. Killed by a coward in cold blood. Thank you for your heroism Heather. You won't be forgotten. #Charlottesviille."
Many Redditors also acknowledged that she died for a right cause. Here is one of the post.
Her name was Heather Heyer. She was 32 years old. And she was killed by the madness of Trumpism that has swept across America. from ChapoTrapHouse
Another post read: "This is Heather Heyer. She gave her life today to resist White supremacist terror. Our president won't say her name, so we must. Say. Her. Name. (sic)"
According to her LinkedIn profile, Heyer was working at the Miller Law Group PC in Virgina. Her last Facebook post read: "If you are not outraged, you are not paying attention."
Several fundraising campaigns were also started on the crowdsourcing website, Gofundme, to support Heyer's family. One of the pages, called "Our Sister's Keeper #HeatherHeyer" was created by Felicia Venita Correa from Charlottesville. Its description read: "Heather Heyer was murdered while protesting against hate. We are raising money to give to her family for anything that they may need. She is a Greene County native and Graduated from William Monroe High School. She will truly be missed." The page mentioned a goal of raising $20,000, and it had already managed to raise $23,653 at the time of publishing this article.
Nineteen other people were injured in the attack after the car driver, identified as James Alex Fields Jr., 20, of Maumee, Ohio, went on a rampage. According to reports, Fields was arrested and charged with second-degree murder, three counts of malicious wounding and not stopping at the scene of a crash that resulted in a death.
President Donald Trump in his statement about the violence in Charlottesville said: "We condemn in the strongest possible terms this egregious display of hatred, bigotry, and violence on many sides, on many sides. It has been going on for a long time in our country — not Donald Trump, not Barack Obama. It has been going on for a long, long time. It has no place in America."
He also tweeted about Heyer saying:
Virginia Gov. Terry McAuliffe also condemned the protests and said: "It is now clear that public safety cannot be safeguarded without additional powers, and that the mostly-out-of-state protesters have come to Virginia to endanger our citizens and property. I am disgusted by the hatred, bigotry and violence these protesters have brought to our state."
© Copyright IBTimes 2022. All rights reserved.
FOLLOW MORE IBT NEWS ON THE BELOW CHANNELS