Who Is Jaime Phillips? Fake Roy Moore Accuser Claimed He Impregnated Her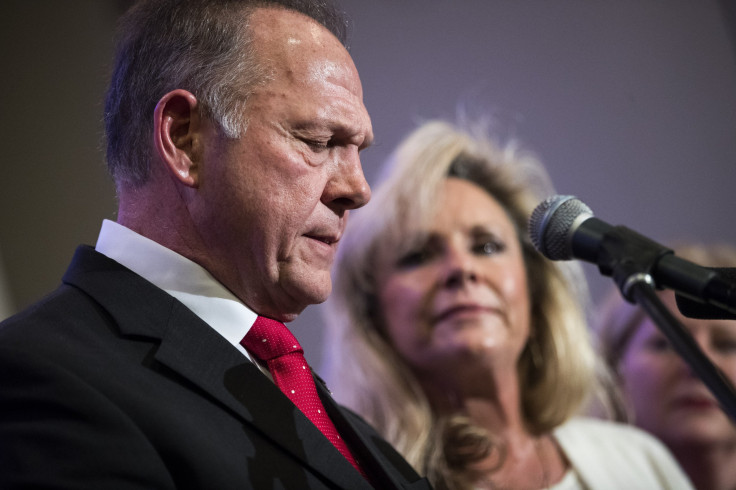 Following the publication of a story detailing sexual misconduct allegations against Republican Senate candidate Roy Moore, The Washington Post accused a woman with ties to a right-wing activist group of falsely making up a story that she conceived a child with Moore, when she 15 years old, reports said Tuesday.
In a story published Monday, the Post stated that it was contacted via email by a woman, who later claimed to go by the name Jaime T. Phillips.
The woman said she wanted to come forward with details of her sexual relationship with Moore which she said dated back to the early 1990s. She claimed in the recent interviews with the paper that it ended with her getting an abortion when she was a teenager in 1992.
However, after further research and fact-checking into claims, the newspaper produced evidence that the woman believed to be Phillips concocted the sensational claim and was fabricating her story in an effort to dupe reporters at The Post and convince them into discussing the political impact her story might have on Moore.
The Post accused Phillips, 41, of fabricating her story in coordination with Project Veritas, an organization, which was formed in an attempt to expose liberal bias in the media.
The organization's mission is to "Investigate and expose corruption, dishonesty, self-dealing, waste, fraud, and other misconduct in both public and private institutions in order to achieve a more ethical and transparent society," according to its website.
The organization is also said to facilitate undercover "stings" between reporters and people, who reportedly use false stories and secret recording gear.
Phillips claimed in multiple interviews to the newspaper that Moore impregnated her when she was a teenager. The series of interviews that took place over a two-week span has been deemed to be false by the newspaper.
"During the interviews, she repeatedly pressed Post reporters to give their opinions on the effects that her claims could have on Moore's candidacy if she went public," the Post article stated.
Phillips first sent emails from an account, which included the phrase,"roll tide," and was listed under the name Lindsay James, according to the Post. After Phillips provided her original name and agreed to meet with Post reporter Beth Reinhard reporter in Virginia, she claimed to the newspaper that she had been a child abuse survivor whose family moved a lot.
Public records indicated that the woman is originally from Clarion, Pennsylvania and also lived for some time in the Frederick, Maryland area until she moved to Atlanta, Georgia, in 2014.
Court documents from Montgomery County Circuit Court further suggested that Phillips was at one time married to a man named Nathan Kahl, who lived in Gaithersburg, Maryland, and she had legally changed her name to Jaime Kahl after their marriage. However, the couple filed for divorce in October 2002, and her maiden name had been restored by the state, Heavy.com reported.
The post recovered one of the most damning pieces of evidence against Phillips, a now-deactivated GoFundMe campaign on the website in which Jaime Phillips of Atlanta, Georgia was seeking money to relocate to New York.
In a description of the funding campaign on May 29, Phillips wrote that she was "moving to New York" after accepting a position to work "in the conservative media movement to combat the lies and deceit (sic) of the liberal MSM (mainstream media)."
"I'll be using my skills as a researcher and fact-checker to help our movement," she wrote.
© Copyright IBTimes 2023. All rights reserved.