Who Is Janet Yellen? 11 Facts About The Federal Reserve's First Female Chair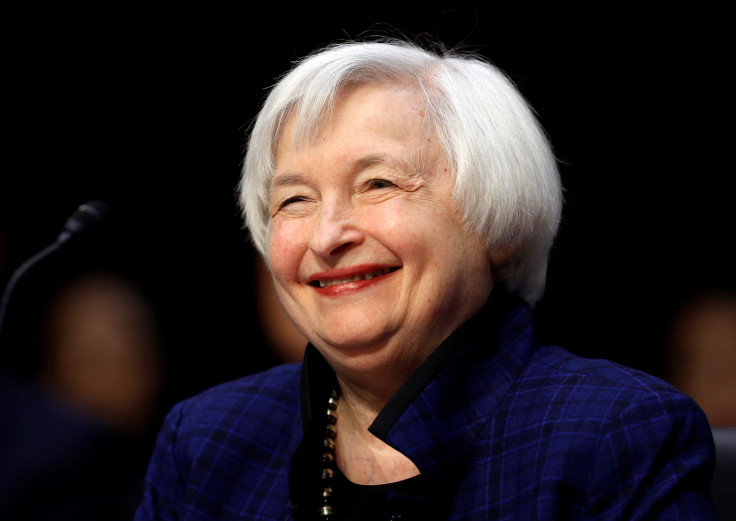 At the close of a two-day meeting Wednesday, the Federal Reserve's first female chair in its 103-year history, Janet Yellen, will announce the central bank's decision on whether it plans to raise its target for the federal funds rate—a bank-to-bank lending rate followed closely by other interest rates, like those of bonds and mortgages.
Nominated by President Barack Obama in October 2013 and confirmed by the Senate in January 2014, Yellen has just over a year left in her first term. While she has already left an impact on markets, there is still a lot to know about the Brooklyn native.
She's very powerful
Yellen topped Bloomberg Markets' 2015 list of the 50 most influential people, putting her just ahead of Chinese President Xi Jinping at number two, Apple Inc. Chief Executive Tim Cook in third and Larry Fink, co-founder of BlackRock Inc., the world's largest asset manager, in fourth place.
She also has a sense of humor
Yellen was valedictorian of her Brooklyn high school's 1963 graduating class, and, in line with Fort Hamilton High School tradition, was to be interviewed by the editor-in-chief of the school paper. The only problem: She was that editor-in-chief.
The New York Times dug up a clipping of the Fort Hamilton Pilot, in which Yellen interviewed herself.
"I understand," editor-in-chief Yellen began, speaking to valedictorian Yellen, "that you're a versatile, attractive, talented senior."
Her husband is a first, too
Yellen is married to Nobel Prize winner George Akerlof, whose claim to economic fame was a 1970 paper published in the Quarterly Journal of Economics.
In his study, titled "The Market for 'Lemons,'" Akerlof explained the ways in which unknowns on both sides of a transaction can hinder market activity. Before the advent of Carfax, for example, used car buyers had no clue as to the quality of the vehicle, and would be therefore willing to pay a middling price—somewhere between a bargain and what they'd shell out for a genuinely nice car—rather than what the vehicle is actually worth. Because car buyers are wary of overspending, good-quality cars don't sell, leaving the market full of "lemons." The same logic can be applied to insurance and lending markets.
And they're very wealthy
In a Fed financial disclosure released prior to Yellen's nomination, Yellen reported that she and her husband held assets valued at between $4.8 million and $13.2 million. (The Fed's financial disclosures provide ranges, rather than specific amounts.)
That still likely put them behind Yellen's then-rival for the chair position, former Treasury Secretary Lawrence Summers, who was estimated to have between $7.9 million and $31.7 million, as an individual.
And smart
Yellen spent her undergraduate years at Brown University, received her Ph.D. from Yale University and has taught at Harvard University, the London School of Economics and the University of California, Berkeley's Haas School of Business.
Akerlof went to Yale for undergraduate and the Massachusetts Institute of Technology for his Ph.D. before, along with his wife, teaching at Berkeley and LSE.
And avid stamp collectors
The American economy's top power couple boasts a stamp collection valued at between $15,000 and $50,000, which Yellen reportedly inherited from her mother.
She predicted the recession
While many leaders at the Fed believed in December 2007 that, as current New York Fed Bank President William Dudley put it, "fear is diminishing, which implies less risk of a crisis developing" from the bad mortgages that eventually led to a housing market collapse, Yellen stood out, according to Fed transcripts.
"The bad news since our last meeting has grown steadier and louder," Yellen, then the president of the Fed Bank of San Francisco, said at a December 2007 monetary policy meeting, "as strains in financial markets have resurfaced and intensified and as the economy has shown clear signs of faltering."
She's predicted lots of things
In an analysis of 14 Fed policymakers' predictions between 2009 and 2012, the Wall Street Journal listed Yellen as the most accurate forecaster of the economy's future. The ranking put her ahead of Dudley, in second, and then-chair Ben Bernanke, in 10th place.
She has worked for Bill Clinton
During the 2016 presidential election, many wondered if Yellen might be biased, as she held out on hiking the Fed's interest rate target—a necessary but contractionary measure—prior to the election, in which voters saw Democratic nominee Hillary Clinton's policies as a continuation of the current economic climate under Obama.
Fueling such criticism, some pointed to the fact that Yellen chaired the Democratic nominee's husband's Council of Economic Advisors from 1997 to 1999.
And isn't admired by Trump
During his campaign, President-elect Donald Trump has said Yellen should be "ashamed" of herself and once tweeted that it's "so important to audit The Federal Reserve."
His administration is also expected to attempt to limit the central bank's policymaking authority, House Financial Services Committee Chairman Jeb Hensarling (R-Texas) told Bloomberg on Dec. 7.
Who might replace her next year?
"When her time is up, I would most likely replace her, because of the fact that I think it would be appropriate," Trump told CNBC in May. "She is a low-interest-rate person. She has always been a low-interest rate person. And I must be honest, I am a low-interest rate person. If we raise interest rates and if the dollar starts getting too strong, we're going to have some very major problems."
Yellen's term ends in February 2018. She has made it clear that she won't be leaving before then.
FOR FREE to continue reading
✔️ Unlock the full content of International Business Times UK for free
offer available for a limited time only
✔️ Easily manage your Newsletters subscriptions and save your favourite articles
✔️ No payment method required
Already have an account?
Log in
© Copyright IBTimes 2023. All rights reserved.