Who Is Sam Rockwell's Girlfriend? Leslie Bibb Supports 'Three Billboards' Actor At Oscars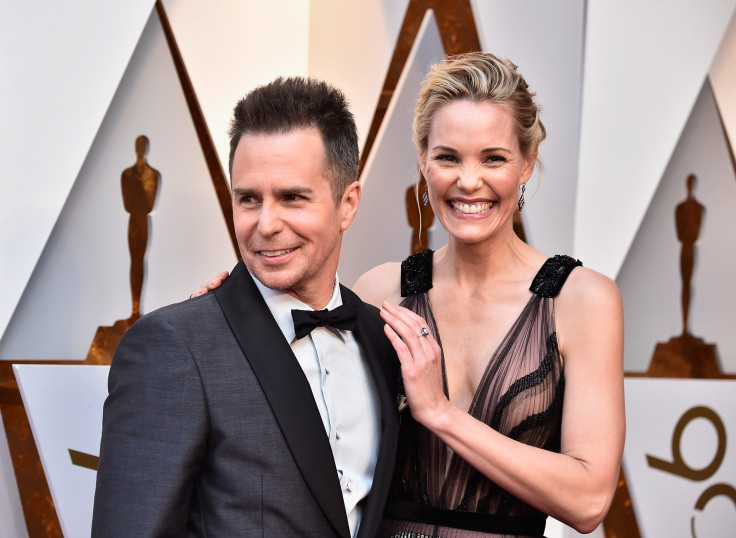 Among the many stars to walk the red carpet at Sunday's Academy Awards in Hollywood, California were Sam Rockwell and Leslie Bibb. The couple has made appearances throughout the awards' season with Rockwell being honored for his role on "Three Billboards Outside Ebbing, Missouri."
Rockwell was the first winner Sunday night, taking home the award for best supporting actor for his role as troubled police officer Jason Dixon. Bibb wasn't nominated for an award, but she's an accomplished actress in her own right.
Bibb got her start in Hollywood when she landed a role in "Private Parts" in 1997. She might be best known by some for her role in "Talladega Nights: The Ballad of Ricky Bobby," where she played the part of Will Ferrell's wife. Bibb has also starred in movies like "Confessions of a Shopaholic," "Law Abiding Citizen" and "Zookeeper."
Bibb and Rockwell have appeared in films together. Both had roles in "Iron Man 2," when Rockwell played the evil Justin Hammer. The couple has been dating since 2007.
Rockwell thanked Bibb toward the end of his acceptance speech Sunday night, pointing to the actress and proclaiming, "You light my fire, baby!" The 49-year-old beat out Woody Harrelson, his co-star in the film, among others.
Rockwell has been cleaning up in 2018, winning various awards for his role in this year's best picture favorite. Bibb might be his biggest supporter, standing by his side since he won a Golden Globe in January.
"I could have strangled him," Bibb, 43, told People, regarding her long-time boyfriend's win at the Golden Globes. "I hugged him so hard. I was crying, I was all of it. I just didn't expect them to say his name! It's so long coming for Sam, so it's really special to be here. … I hope the same thing happens tonight."
Click here to learn how to watch a live stream of the 2018 Oscars.
© Copyright IBTimes 2023. All rights reserved.