Who Is Sonny Perdue? Donald Trump Expected To Name Former Georgia Governor As Agriculture Secretary For His Cabinet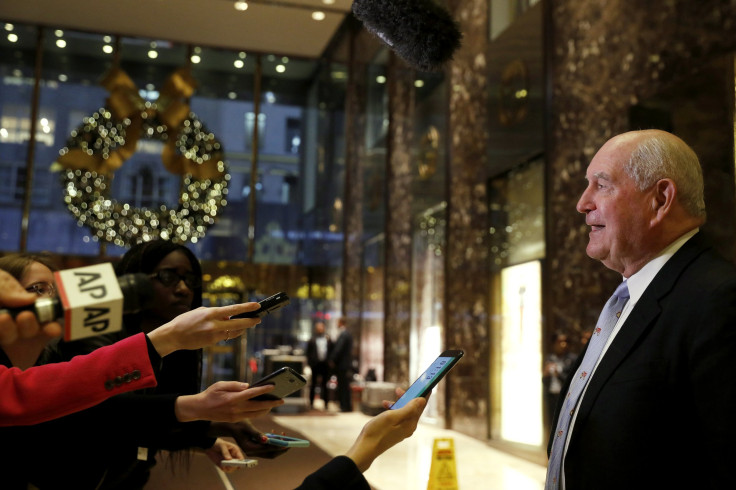 President-elect Donald Trump intends to nominate former Georgia Gov. Sonny Perdue as secretary of agriculture, two senior transition officials reportedly said Wednesday. The announcement is expected Thursday.
Perdue's nomination must be confirmed by the Republican-led Senate. The nomination will complete Trump's proposed cabinet just before he is sworn in as the 45th president of the United States on Friday.
Perdue, 70, served on Trump's agricultural advisory committee during his presidential campaign. Perdue, if nominated, will become the second Georgian to join Trump's cabinet after the president-elect's health secretary pick Rep. Tom Price of Roswell.
If the Senate confirms Perdue's nomination, Perdue would be the first agricultural secretary from the southern part of the country after Democrat Mike Espy who headed the department in Mississippi in the early '90s. As head of the agency, Perdue would supervise the food stamp program and also decide the nation's farm policy.
Late last November, after a visit to the Trump Tower, Perdue told reporters: "I'm interested in helping the country, I told the president-elect Trump that I would be happy to serve from Georgia, where I am very happily living with my wife and 14 grandchildren, or I'd be happy to serve him if he thought I could be helpful to him here in D.C." He called his meeting with the president-elect "very genuine, honest, and forthright" and said they had discussed trade, economy and agriculture.
In 1998, Perdue, a former Democrat, changed his political affiliation to become a Republican. He has served as the governor twice between 2003 and 2011. Before acting as the governor of Georgia, he was in the state Senate that represented rural areas about 100 miles south of Atlanta.
Sen. David Perdue, Perdue's first cousin, said he "could not be more proud" of the president-elect's choice. "I am confident Sonny will work hard to advance smart agriculture policies that will help our farmers, ranchers, and rural communities across the country," David Perdue, who is also part of the Senate Agriculture Committee in Georgia, reportedly said.
© Copyright IBTimes 2023. All rights reserved.
FOLLOW MORE IBT NEWS ON THE BELOW CHANNELS