Who Is Svitlana Sangary? LA Lawyer Faces Bar Suspension For Using Photoshop To Create Celebrity Friends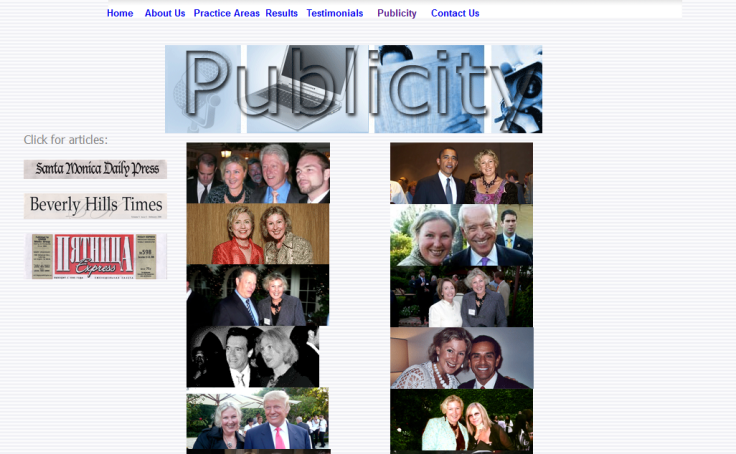 A Los Angeles lawyer is facing a six-month suspension from the California Bar after she was caught superimposing her face onto photos with celebrities. While we don't know what Svitlana Sangary was thinking, a court saw the photo doctoring as intended "to confuse, deceive and mislead the public."
In his decision, filed on Sept. 11, State Bar Court Judge Donald Miles described the images as false and deceptive" advertising.
The photos show Sangary hobnobbing with George Clooney, Donald Trump, Woody Allen and Alec Baldwin, among other boldface names. The thumbnail-sized images show her wearing different outfits, smiles and poses that resemble the celebrity she appears to be with.
Miles also said in his decision that Sangary was not fully cooperative with the investigation. In addition to the six-month suspension, he recommended she serve three years of probation, according to the Recorder.
"The court has grave concerns regarding [Sangary's] demonstrated lack of insight and her contemptuous conduct during these proceedings," Miles wrote. Her "failure to remove the deceptive images from her website, even after the State Bar brought this issue to her attention, and her demonstrated disregard for the disciplinary process give little reason to believe that her misconduct will not continue."
The link to the "publicity" page on Sangary's website where the photos were posted has been removed, but the images can still be shown by clicking a direct link to the page, the Washington Post reports.
According to the State Bar Court's decision, since the images belonged to an "advertisement and solicitation for future work," they fall under the definition of "false and deceptive" advertising. The Bar launched an investigation in January on the false photos. Back then, she responded to the allegations in what is described as "a 16-page soliloquy with little or no rational connection to the charges at hand," Miles wrote in his decision. In one case, she appears to go on a tangent about actress Natalie Portman, who was not among the celebrities in the photos she photoshopped herself into. The excerpt Sangary wrote is below:
"Also with regard to false statements and misleading advertisement, none other than Natalie Portman comes to mind. The online media extensively covers the controversy surrounding Natalie Portman's performance in the film Black Swan. The ballet dancer who performed in the Black Swan, Sarah Lane, has come forward to revel [sic] a "cover up" and says that Natalie Portman's head was superimposed onto Sarah Lane's body, and that Natalie Portman lied…Despite the foregoing, Natalie Portman has won an Oscar for her performance in Black Swan."
According to the State Bar of California, Sangary graduated from Pepperdine University's School of Law. She was admitted to the State Bar in 2004. On Yelp and legal forum, Avvo, she has received poor reviews with users calling her "scum," an "unethical crook" and "incompetent" – mostly for excessive billing and failure to file responses and motions on time. Sangary has not publicly commented on the allegations.
© Copyright IBTimes 2023. All rights reserved.
FOLLOW MORE IBT NEWS ON THE BELOW CHANNELS