Who Is Theresa Vail? Miss Kansas Will Unveil Tattoos At Miss America Pageant [PHOTO]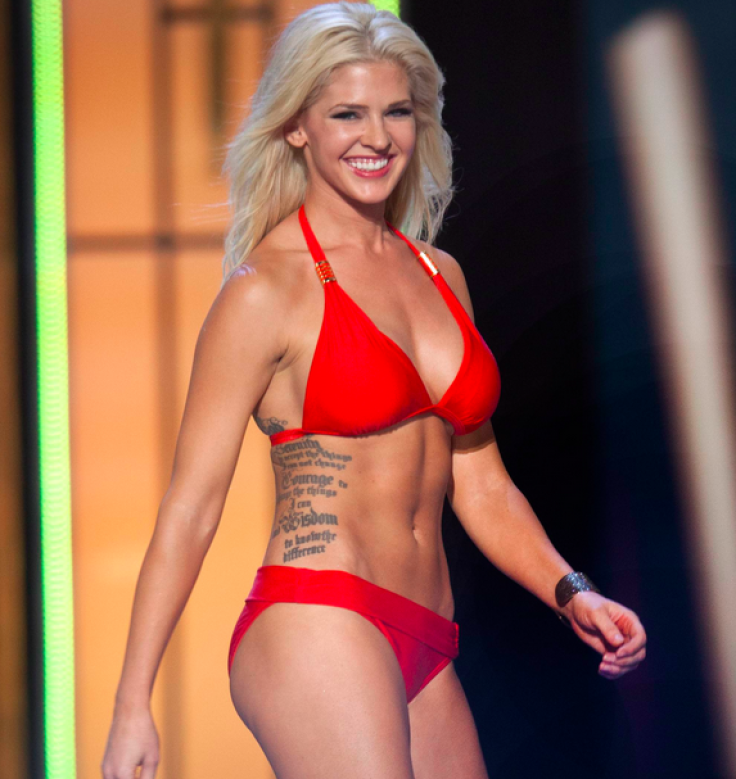 Tattoos and the Miss America contest aren't synonymous, but Miss Kansas Theresa Vail is nonetheless set to show off her ink during the show on Sunday night in Atlantic City, N.J. And Miss Kansas isn't just any old contestant, either.
The 22-year-old blonde and Kansas Army National Guard sergeant/beauty queen has two pieces of body art she plans on showing off. On her right side, she has the Serenity Prayer, with the vintage lettering reading: "God, grant me the serenity to accept the things I cannot change, the courage to change the things I can, and wisdom to know the difference." On her left shoulder, she has the emblem of the Army Dental Corps, the Daily Mail wrote.
Even though Vail supposedly got booed when she went out on stage in her bikini in a preliminary round of the pageant, she told ABC News' "Good Morning America" that she went out and "rocked it" anyway, the Daily Mail said. Her bright smile can be seen in the photographs that were snapped during that round.
Although the audience might have booed her, her fellow contestants are fans of her tattoos, she told "GMA." The difference between Vail and the other girls is that while the rest of them have chosen to cover their body ink, Miss Kansas is flaunting hers.
"I don't think they're taboo anymore," she said of her tattoos. "It's 2013. Half the girls have tattoos, they're just choosing to cover them." Vail added that her ink is meaningful and that she doesn't condone tattoos done just for decoration, so to speak.
Vail was inspired to join the U.S. Army after her father worked in the military branch as a dentist and soldier for 33 years.
"My whole platform is empowering women to overcome stereotypes and break barriers," the Daily Mail quoted her as saying. "How can I tell other women to be fearless and true to themselves if I can't do the same? I am who I am, tattoos and all."
© Copyright IBTimes 2023. All rights reserved.