Who Wrote 'Harry Potter And The Cursed Child'? J.K. Rowling Had Help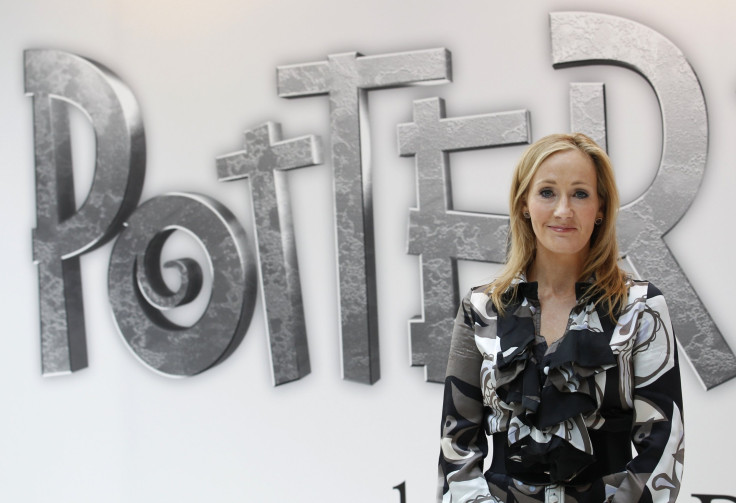 "Harry Potter and the Cursed Child" is the eighth "Potter" tale, but it's quite different from the first seven stories. Not only is the play format new, but so are the authors. J.K. Rowling had a little help writing her first project for the stage.
While J.K. Rowling's name has a prominent space on the cover of the "Harry Potter and the Cursed Child" scripts, two other names are also there: Jack Thorne and John Tiffany. Rowling never had help writing before, but this play wasn't actually her idea. Producer Colin Callender said the bestselling author didn't want to be the one solely responsible for the script. "She was clear from the beginning that she was not a playwright and wouldn't write it, and that she would only do it if we found a playwright she approved," he told the New York Times last month.
The collaborators she approved were Thorne and Tiffany. They emphasized that Rowling made sure they stayed true to her vision of the characters. The three worked on the story together. "It took about six months to really map the whole thing out," Thorne said. "Every time it was like taking a big step forward, one or two small ones back. Jo would say, 'This feels right, this doesn't.'"
The trio's story focuses on Harry's child Albus Severus as he starts his education at Hogwarts, and Thorne is used to writing coming of age stories. He was a writer on "Skins," an acclaimed British teen drama. He also has plenty of experience writing plays, with about a dozen titles published under his name.
Tiffany isn't typically listed as a writer, but as a director. He directed "Cursed Child," and he has quite a few impressive credits on his resume. He won a Tony Award for directing Broadway's "Once" and was nominated for the same category again in 2014 for his "Glass Menagerie" revival.
While the three worked on the story together, it was Thorne who did the majority of the writing. "The three of us kind of talked and discussed and cogitated the story through discussions which Jack then wrote down," Tiffany told BBC News. "And we didn't start writing the play as such—or Jack didn't—until we'd agreed on what that story was."
"Jack produced an amazing script," Rowling added.
Fans can see if Thorne's writing lives up to Rowling's when the scripts for "Harry Potter and the Cursed Child" hit shelves on July 31. The play, which has been in previews since June, officially opens at the Palace Theatre in London on the same day.
© Copyright IBTimes 2022. All rights reserved.
FOLLOW MORE IBT NEWS ON THE BELOW CHANNELS