Why Is Chuck Hagel Resigning? 5 Reasons Defense Chief Is Leaving Obama Administration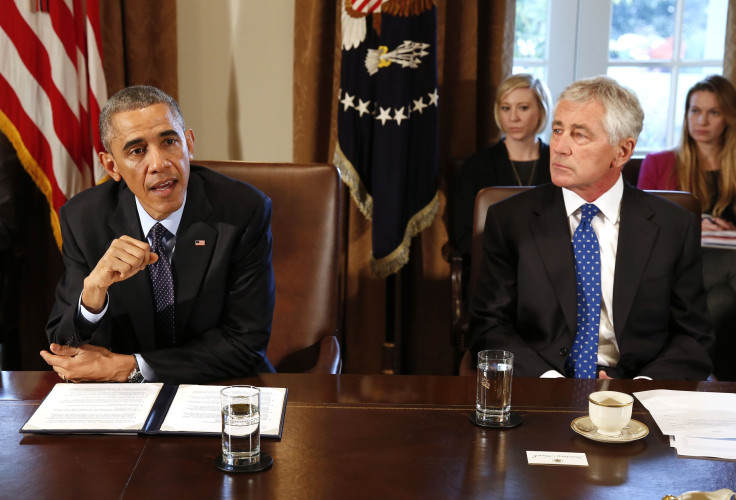 President Barack Obama praised Secretary of Defense Chuck Hagel's long career of public service Monday even as he showed him the door. Obama did not explain during a press conference why Hagel, a Republican who has served as the nation's defense chief since early last year, submitted his resignation, but that didn't stop political observers from drawing their own conclusions. Below are five reasons why Hagel, 68, was likely forced out of the Obama administration, according to media reports and speculation.
1. Hagel didn't understand the Middle East. Hagel couldn't get the Taliban in Afghanistan to accept a peace deal and his efforts to stop a military coup in Egypt also failed, according to Vox. He also didn't do enough to block the Islamic State militant group from gaining territory in Syria and Iraq.
2. Hagel never built a good relationship with the Obama administration. Hagel, the lone Republican on Obama's national security team, was never liked by the Pentagon or the White House, largely because he wasn't seen as an effective communicator or manager. The New York Times wrote: "Hagel has often had problems articulating his thoughts — or administration policy — in an effective manner." He reportedly didn't like to speak during Cabinet meetings, preferring to run things by Obama when they were alone. He was popular with troops, however, as the first enlisted combat military veteran to become secretary of defense.
3. Obama needed a scapegoat amid a series of foreign policy disasters. The growing popularity of the Islamic State among militant groups, Russia's assaults on Ukraine and boiling tensions across the Middle East have all made the White House's foreign policy look especially weak in recent months. By getting rid of Hagel, the Obama administration could be looking for a fresh slate, media reports suggested. "It is unrealistic to expect the president to fire himself, so others have to play that sacrificial role," Foreign Policy wrote.
4. Hagel was critical of the administration. As a Republican, Hagel was always an outsider, but he didn't help endear himself to anyone by speaking out publicly against the White House from time to time. More recently, he sent a letter to National Security Adviser Susan Rice that said Obama needed to explain his approach to Syrian President Bashar Assad, who has been helped by Obama's airstrikes against the Islamic State in Syria. The letter angered White House officials, according to the Associated Press. Hagel also took a stronger stance against the Islamic State initially than the White House did, saying the militants also known as ISIS represented an "imminent threat to everything we have."
5. He didn't get along with Republicans in Congress. Hagel not only rubbed the Obama administration the wrong way, he also never won over the lawmakers who oversee military spending. Republicans lawmakers simply considered him "a water-carrier for the administration," according to the Guardian. "On paper, Hagel looked perfect for the job -- a war hero, a former senator, a successful entrepreneur," Loren Thompson of the Lexington Institute in Arlington, Virginia, told Bloomberg. "But his confirmation hearings did not go well, and his temperament proved ill-suited to such a politically sensitive job."
© Copyright IBTimes 2023. All rights reserved.
FOLLOW MORE IBT NEWS ON THE BELOW CHANNELS